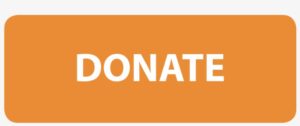 The University of Texas Elementary School relies on the generosity of individual, corporate, and foundation supporters to offer innovative programming that sets our students on a path for success from Pre-K to Ph.D. and beyond.
As a publicly funded, open-enrollment charter school, UT Elementary School is free* for students to attend. (*UT Elementary does have a paid option for Pre-Kindergarten.) The school receives about 80% of its funding through governmental sources (state and federal programs). 
UT Elementary School is committed to providing evidence-based additional Margin of Excellence Programs that are not funded by governmental sources – resulting in an annual budget gap. The school would not be able to meet this annual funding need without support from our community.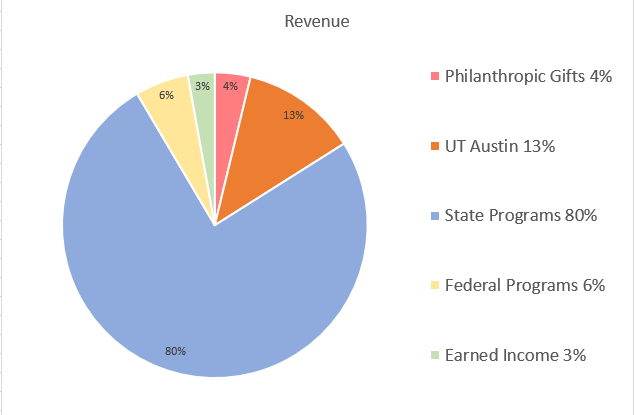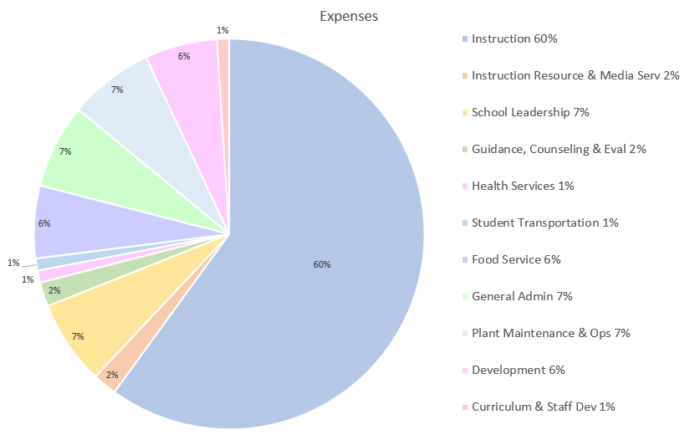 The revenue and expense charts are based on the audited financials for the 2021-2022 fiscal year.  Our external audits are available on our Public Information page. 
---
Make A Difference In One Of These Areas
Visualize Graduation Society

Become a part of the Visualize Graduation Society (VGS) – a multi-year giving society for those who have pledged to invest at least $1,000 per year of programmatic funds for a period of five years or more. VGS members play a critical role in helping UTES fulfill its mission as a research-based demonstration school that sets students on a successful path from Pre-Kindergarten through Ph.D.
Learn more about the Visualize Graduation Society here: Visualize Graduation Society
Endowments for Special-Area Programs
As UT Elementary matures and redefines its role as a national and global educational model, it is essential that we ensure the excellence of our programming so that our students can achieve success as lifelong learners. In addition to standard curricula, UT Elementary offers a range of courses and learning opportunities that are typically available only to students in expensive, private elementary schools. Known as our Margin of Excellence programs, these research-based classes provide students with skills that have been shown to improve overall educational outcomes, setting them up for success in elementary school and beyond.
Currently, UT Elementary is able to offer only a fraction of the Margin of Excellence programs our students need to thrive. Endowments would expand our offerings and secure the future of these programs for years to come. Help us to ensure the sustainability of our highly effective special-area programs by establishing or contributing to an endowment in any of the following areas:
Health and Wellness
The Healthy Families Initiative is a comprehensive school wellness program that integrates seven core tenets, including physical education and activity, nutritional services, and family and community involvement. Students learn the value of a healthy lifestyle and adopt wellness behaviors that will serve them throughout their lifetimes.
Music Programs
UT Elementary is home to multiple music programs including: The Little Longhorn UT Strings Project – a partnership with the UT Butler School of Music – that offers UT Elementary School students in grades 2-5 the opportunity to learn to play an orchestral stringed instrument (violin, viola, cello, or bass). Classes take place at during the school day at UTES and on weekends at the UT Austin campus.

Foreign Languages and Cultures
In the Discovering Languages and Cultures classroom, students learn about other cultures and their languages. This class frequently interacts with local artists and community partners to create unique learning experiences for our students. 
Counseling and Social and Emotional Learning
Social and Emotional Learning (SEL) is a core concept integrated throughout all aspects of UT Elementary School. Students learn essential life skills, such as emotional regulation, interpersonal relationship management, conflict resolution, and decision-making.  In addition to the in-class SEL lessons, families are supported by our on-campus, full-time counselor.  
STEAM Classroom
In the STEAM (science, technology, engineering, art, and math) classroom, students learn 21st century skills by conducting inquiry-based, hands-on projects ranging from coding and robotics to architectural drawing, mechanical engineering, and more.
Special Education
Special Education is a way of educating and monitoring children to address their individual differences and needs. Special Education requires more time from and training for teachers. This fund supports teacher training specifically for Special Education services.
Teacher Professional Development
As a national leader in educational best practices, UT Elementary provides our faculty with innovative and consistent professional development. This fund supports our teachers though effective and ongoing training.
Annual gifts
Any one-time gift to the school is welcome and appreciated. With $100, we can buy yearly supplies for a classroom of 22 students; with $250, we can send 44 students on a field trip.
---
Where Does My Donation Go?

The Philanthropic Use chart is based on the audited financials for the 2021-2022 fiscal year.  Our external audits are available on our Public Information page. 
If you wish to be a part of our work by investing in our mission, please visit our online giving page by clicking below:
---
Please contact Director of Development and Communications, Sharon Yarbrough, sharon.yarbrough@austin.utexas.edu if you have any questions about these initiatives or would like to discuss giving opportunities.