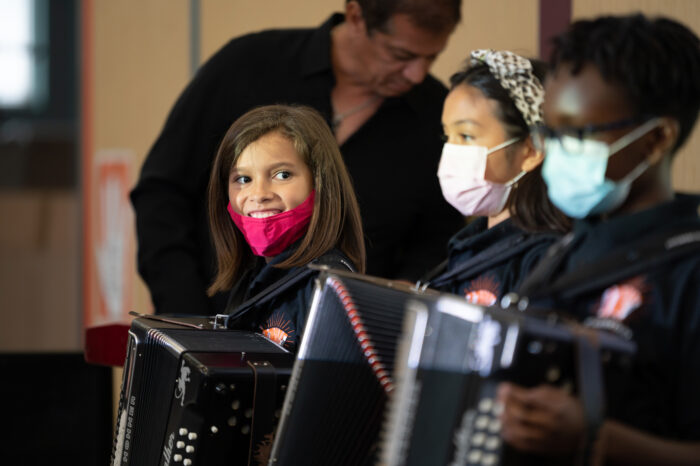 Faculty from the University of Texas College of Education were the framers of UT Elementary's charter. By design, UT Elementary created to include special academic areas are called our Margin of Excellence Programs that were prioritized because research showed that offering more frequent access to these special academic areas affords students a more holistic and connected academic experience.
UT Elementary's Margin of Excellence Programs are:
Health and Wellness
STEAM (Science, Technology, Engineering, Art and Math)
Music Programs (including Orchestra, Strings and General Music)
Spanish/Second Language Foundation and Acquisition
Social Emotional Learning
.
Healthy Families Initiative
The Healthy Families Initiative has taken health and wellness beyond the walls of traditional Physical Education classes to a community wide approach to teaching health to its students and families. With a focus on gardening, cooking, and physical education, the Healthy Families Initiative is working to create an environment that not only promotes a healthy and active lifestyle, but provides opportunities for students and their families to actively explore the benefits of this way of life. 
STEAM
The STEAM initiative is designed to development student knowledge and skills in the areas of science, technology, engineering, arts, and math. Students learn how to apply technology skills to solve problems and communicate with others. With a focus on project based learning, each year concludes with the completion of a showcase project. Prior projects have included a student-produced film, robotics competition, and a collection of student-produced digital stories.
Music
UT Elementary's Music program was created in partnership with Dr. Laurie Scott, The Texas String Project and UT's Butler School of Music. Most elementary schools offer some music education, but UT Elementary is unique in that we have a full-time, on-site music teacher and students begin learning to play the violin in second grade. In the fourth grade, students choose to continue to learn the violin or to learn the cello.  Our school also offers an afterschool Accordion program that is led by Grammy Award Winning artist Joel Guzman and Sarah Fox.
Spanish
Over the last twenty years, multiple studies have shown that providing children with the foundation of a second language has enormous benefits. This foundation has been linked to better test scores, facilitating the acquisition of learning a third language (including computer languages), increased empathy for English language learners and those with language differences and more. Additionally, the studies show that these benefits are realized by both native English speakers and English learners alike.
Social Emotional Learning
UT Elementary was a pioneer in bringing Social and Emotional Learning (SEL) into the classroom and has been a national model. Research that was being done in 2005 at The University of Texas at Austin was used as the roadmap for the implementation of SEL at UT Elementary. UT Elementary includes classroom instruction using evidence-based curriculum, creates a positive culture and school climate and provides adult competency skills.