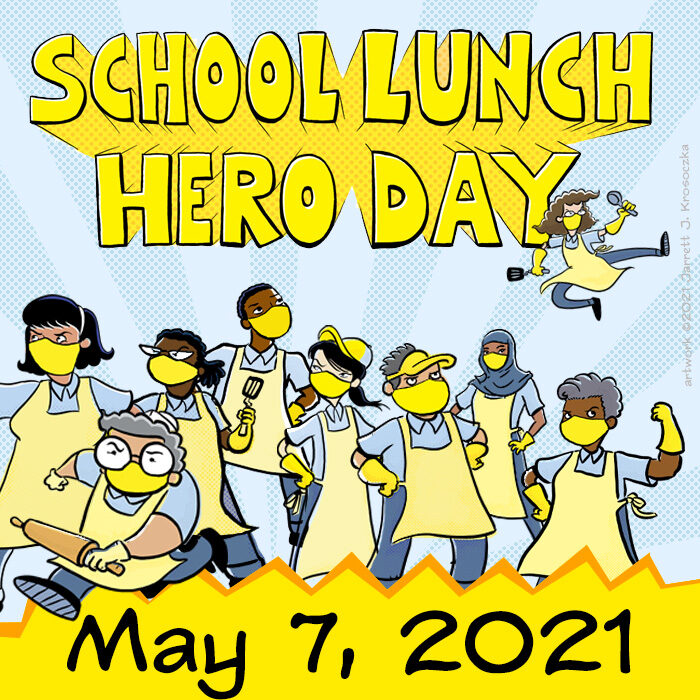 The first Friday in May is School Lunch Hero Day, dedicated to those men and women who make the cafeterias and the schools a better place to be! What was your favorite school lunch? Do you remember the smiling face who served it to you?
For many children, the cafeteria is the first place they enter on a school day. From the first time through the cafeteria line, the lunch hero has more than nutrition on their minds.  The well-being of every child is important to them.  Keeping them safe, happy, and providing them with good and delicious food is also a priority.
Often they see entire families grow up, and sometimes, they are family. The celebration provides students and communities an opportunity to create ways to recognize their school heroes.
HOW TO OBSERVE #SchoolLunchHeroDay
Organize a lunch for your lunch hero! Make a card or bring a flower. Decorate a banner telling your heroes all the ways they are super! Tell your hero, thank you.  Visit www.schoollunchheroday.com for more great ideas and use #SchoolLunchHeroDay to share on social media.
SCHOOL LUNCH HERO DAY HISTORY
Inspired by children's author and illustrator, Jarrett Krosoczka created School Lunch Hero Day to honor the foodservice employees after returning to his old school, and finding his childhood lunch lady remained and remembered him.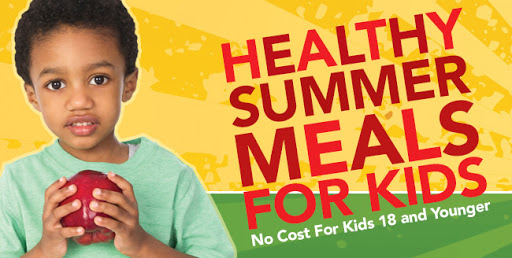 Are you a parent or guardian looking for Summer Meal Program sites near you? Find a summer site in your community with our Summer Meal Site Finder mapping tool. https://squaremeals.org/Programs/SummerMealPrograms.aspx
You can also text "Summer Meals" to 97779 or call 1-866-348-6479 to find a site near you.
Children need nutritious meals to learn, grow and thrive — even when school is out. With the Summer Meal Programs, children and teens ages 18 and younger, and enrolled students with disabilities up to 21 years old can continue to eat healthy throughout the summer at no cost at any participating meal site.No form of identification is required, kids simply show up. Starting June 1st, visit a meal site near you!
Schools and community partners are starting to serve summer meals to children in certain areas.
Need food assistance now? Visit your child's school website to learn more about how meals are being served or locate a nearby meal site by using the texting tool below:
Text FOODTX to 877-877
In Texas, more than 1 in 5 children struggle with hunger.
When the school year ends, children often lose access to consistent, nutritious school meals. The Summer Meals Program ensures more Texas children have enough food for an active, healthy life.
The Summer Food Service Program (SFSP) is a federally-funded, state-administered program. Children 18 years and younger may receive free meals and snacks through SFSP. At most sites, children receive either one or two reimbursable meals each day. Certain camps and sites may be approved to serve up to three meals to each child, each day.
Find a meal service site near where you live, below. You may also text "Summer Meals" to 97779 or call 1-866-348-6479 to find a site near you.
https://www.healthstartfoundation.org/  
Click on "Learn More" for each program below to learn more about our programs
---
Snack Science Video Series In response to COVID-19, HealthStart produced educational videos for children 3 to 8 years of age. This series builds on our award-winning Children's Health Education Workshop Series (CHEWs) program. The SSVS delivers fun, engaging, clear health-science lessons for the home or the classroom.
As kids and their parents work their way through the videos, they will learn what they need to stay healthy and strong. Kids will also see how to cope with their feelings and discover yummy, good-for-you snack recipes.

What Are YOU Feeding? HealthStart's school nutrition education initiative supplies the materials to construct smart nutrition decisions. Our school meal menu analysis and graphics give students the tools to connect what they eat at school to their health. The program works in the cafeteria, classroom, or as part of a science curriculum.
​
---
HEY! Curriculum

HealthStart's early pre- and elementary school curriculum sets the foundation for nutritional, physical, and social and emotional wellbeing. Children 3 to 6 years of age learn how their bodies work and what foods and activities keep them healthy and fit. 

Children's Health Education Workshop (CHEWS)

HealthStart's community-based health education workshops bring health and science lessons to life with science experiments, healthy snack "art," stories, and physical activities. HealthStart presents our CHEWS in person and can effectively adapt them to almost any setting.
---
Monstralia (In Development)
HealthStart's mobile game app uses mini-games to help kids discover good health habits. Kids do this by teaching baby monsters on the Island of Monstralia how to eat well, keep fit, and take care of one another.

Executive Chef • Kimberly Wilson
This will be the beginning of her eighth school year here at UTES. Previously running the cold food department in the Jester production center on the UT main campus for almost 3 years. She has been in the restaurant and hospitality management industry for over 15 years.
Sous chef • Wayne George Jr
Chef Wayne joined our kitchen team in 2017 after leaving a Sous Chef position in a Whole Foods production center. Worked in the full service buffet Café J2 and in the hot food department of the Jester production center of the main UT campus. He has been in the food production and catering industry for 23 years.
Our School Food Program
Healthy Horns Hall features a multi-week food menu cycle featuring many "kid favorites" based on our student feedback survey that is sent home at the end of each year. Every school day your student can receive a full hot breakfast and lunch tray. Each tray includes an entrée, vegetable, fruit, and milk box; free of cost to you. These meals are made in house by our classically training chefs.
Our program is only maintained by funding through federal reimbursements based on our student's meal status. Make sure to complete the National School Lunch Program Meal Application so that we can receive as much reimbursements as possible and keep the free meals coming to our school for all students.

Food Restrictions and Severe Food Allergies Documentation
Students with Food Allergies must submit proper documentation from doctors to the nurse in order to have them on file in the Cafeteria. Only students with detailed documentation will give food substitutes for the allergies noted.

The Food Allergy Form allows you to disclose whether your child has a

food allergy

or

severe food allergy

that you believe should be disclosed to the UT ELEMENTARY CHARTER SCHOOL in order to enable

us to take necessary precautions for your child's safety.

"Severe food allergy" means a dangerous or life-threatening reaction of the human body to a food-borne allergen introduced by inhalation, ingestion, or skin contact that requires immediate medical attention.

Please list any foods to which your child is allergic or severely allergic, as well as the nature of your child's allergic reaction to the food. The nurse will contact you for a note from your physician if your child has food allergies. The school must have an EpiPen prescribed for student in the event of an emergency.

UT ELEMENTARY CHARTER SCHOOL will maintain the confidentiality of this form and the information provided above and may disclose the information to teachers, school counselors, school nurses, and other appropriate school personnel only within the limitations of the Family Educational Rights and Privacy Act and district Policy. The district will maintain this form as part of your child's student record.

Vegetarian options are available for every meal, please come by and speak with Chef Kimberly about your students specific vegetarian lifestyle
Food Restrictions based on religious beliefs need to be noted by cafeteria staff to ensure those items are addressed.
Contact Us