On Friday, May 6, 2022, we celebrate School Lunch Hero Day! This is a special day of celebration to recognize school nutrition professionals and the difference they make every day!
Between preparing healthy meals for Texas students, adhering to strict nutrition standards, navigating student food allergies, and offering service with a smile, school nutrition professionals are true heroes.
School Lunch Hero Day provides the perfect opportunity to recognize the hardworking professionals in your school cafeterias.
TDA has fun downloadable resources to help you celebrate your school lunch heroes. Join us by posting on social media to recognize your school lunch heroes!
Algunas familias de Texas que perdieron el acceso a comidas gratuitas o a precio reducido durante el año escolar 2021-2022 debido a la pandemia de COVID-19 recibirán beneficios de comidas de P-EBT.
---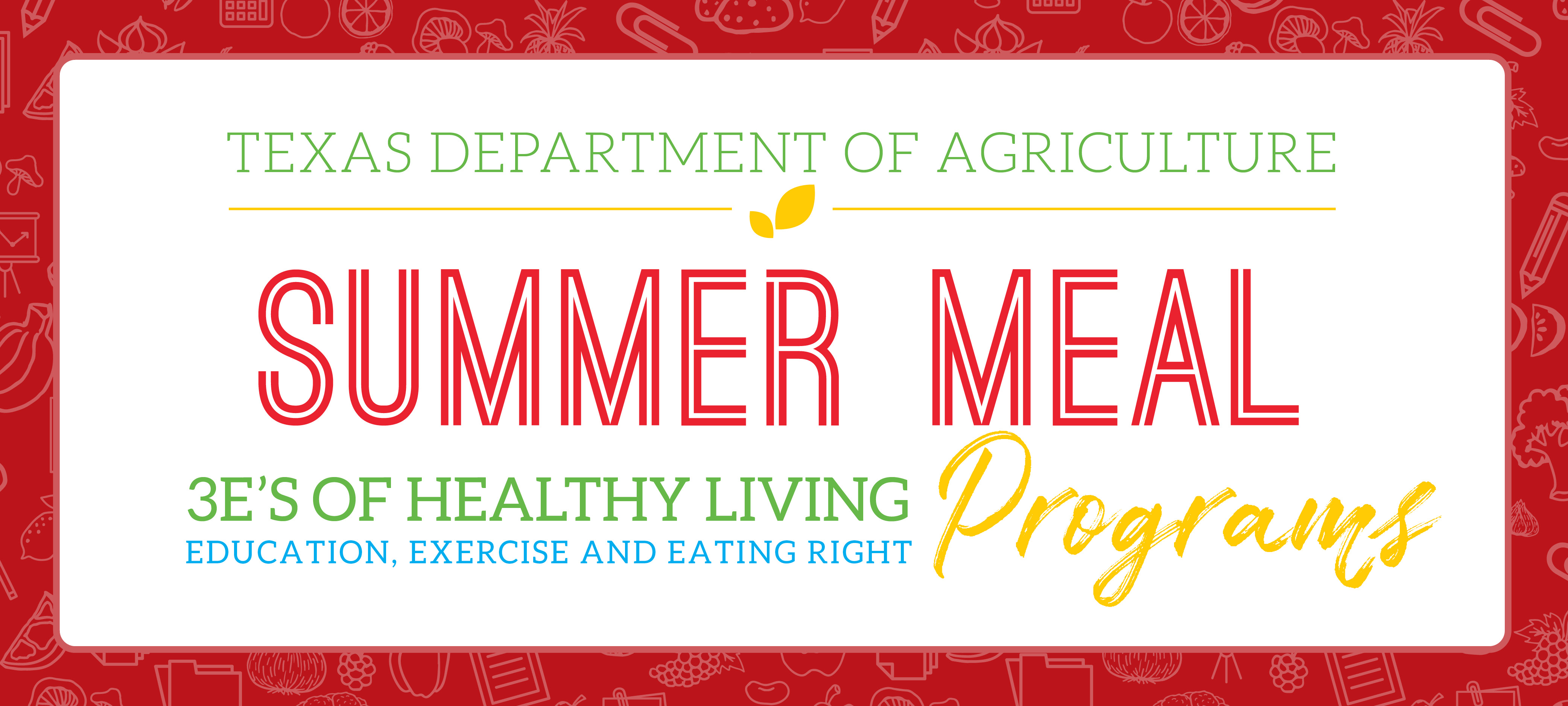 When school lets out, millions of low-income children lose access to the school breakfasts, lunches and afterschool snacks and meals they receive during the regular school year. The Summer Nutrition Programs help fill this gap by providing free meals and snacks to children who might otherwise go hungry.
The program is administered at the federal level by the U.S. Department of Agriculture (USDA), and in each state through the department of education, agriculture, or health. To find out the agency that administers the program in your state, check USDA's list of state administering agencies.
QUICK FACTS
The Summer Nutrition Programs include the Summer Food Service Program and the National School Lunch Program.
Only one in seven children who ate a free or reduced-price school lunch during the 2018-2019 school year were reached by the Summer Nutrition Programs in July 2019.
Our School Food Program
Healthy Horns Hall uses a seven-week lunch menu cycle featuring many "kid favorites" based on our student feedback survey that is sent home at the end of each year. Every school day your student can receive a full hot breakfast and lunch tray. Each tray includes an entrée, vegetable, fruit, and milk box; free of cost to you. These meals are made in house by our classically training chefs. Our program is maintained by funding through federal reimbursements based on our student's meal status. Make sure to complete the National School Lunch Program Meal Application so that we can receive as much reimbursements as possible and keep the free meals coming to our school for all students.
Yes we do that!
Each dish has a meatless option for students that live a constant vegetarian lifestyle. Any student that wishes to be on the vegetarian list will need have a parent or guardian communicate directly to Chef Kimberly. This way we can all be in the loop and be sure the item will be available for their specific student.
Vegetarian Items we use in place of meat in all our dishes:
HINOICHI extra firm tofu blocks
Morning Star meatless breakfast sausage patty
Morning Star Meatless Chicken Nugget
Garden Burger Meatless Black Bean Patty
Kraft Meatless Patty Boca 3/1
PlantFare Plant Protein Shreds
Kellogg's Meatless Grillers Crumble
OUMPH! Meatless Chunks
Field trip sack lunch: Tofurky Deli Slices
Food Allergies – What Is a Food Allergy?
Lots of kids have food allergies. Food allergies happen when the immune system makes a mistake. Normally, your immune (say: ih-MYOON) system protects you from germs and disease. It does this by making antibodies that help you fight off bacteria, viruses, and other tiny organisms that can make you sick. But if you have a food allergy, your immune system mistakenly treats something in a food as if it's really dangerous to you.
The same sort of thing happens with any allergy, whether it's a medicine (like penicillin), pollen in the air (from grasses, weeds, and trees), or a food, like peanuts. So the thing itself isn't harmful, but the way your body reacts to it is.
What Are the Most Common Food Allergies?
Kids can be allergic to any food, but these cause most food allergy reactions:
seafood, such as shrimp
fish
milk, particularly cow's milk
soy
wheat
sesame
What's a Food Allergy Reaction Like?
If a kid with peanut allergy would have eaten that peanut-topped brownie, here's what would happen. Antibodies to something in the food would the body to release chemicals into the bloodstream. One of these chemicals is histamine (say: HISS-tuh-meen).
This then causes symptoms that affect a person's eyes, nose, throat, respiratory system, skin, and digestive system. A person with a food allergy could have a mild reaction — or it could be more severe. An allergic reaction could happen right away or a few hours after the person eats it.
Some of the first signs that a person may be having an allergic reaction could be a runny nose, an itchy skin rash such as hives, or a tingling in the tongue or lips. Other signs include:
tightness in the throat
hoarse voice
wheezing
cough
nausea
vomiting
belly pain
diarrhea
In the most serious cases, a food allergy can cause anaphylaxis (say: ah-nuh-fuh-LAK-sis). This is a sudden, severe allergic reaction in which several problems happen all at once. It can involve the skin, breathing, digestion, the heart, and blood vessels. A person's blood pressure can drop, breathing tubes can narrow, and the tongue can swell.
People at risk for this kind of a reaction have to be very careful and need a plan for handling emergencies, when they might need to get special medicine to stop these symptoms from getting worse.
Many kids outgrow allergies to milk and eggs as they grow older. But severe allergies to foods like peanuts, some kinds of fish, and shrimp often last a lifetime.
How Are Food Allergies Treated?
There is no special medicine for food allergies. Some can be outgrown; others will last a kid's whole life. The best treatment is to avoid the food itself and any foods or drinks that contain the food.
One way to figure that out is to read food labels. Any foods that might cause an allergic reaction will be listed near or in the ingredient list. Some people who are very sensitive may need to avoid foods just because they are made in the same factory that also makes their problem food. You may have seen some candy wrappers that say the candy was made in a factory that processes nuts too.
Have a Plan
No matter how hard you try, you may eat the wrong thing by accident. Stay calm and follow your emergency plan. What's an emergency plan? Before a slip-up happens, it's a good idea to create a plan with your doctor and parents. The plan should spell out what to do, who to tell, and which medicines to take if you have a reaction.
This is especially important if you have a food allergy that can cause a serious reaction (anaphylaxis). For serious reactions, people may need a shot of epinephrine (say: eh-pih-NEF-rin) with them. This kind of epinephrine injection comes in an easy-to-carry container that looks like a pen. You and your parent can work out whether you carry this or someone at school keeps it on hand for you. You'll also need to identify a person who will give you the shot.
If you get an epinephrine shot, you will need to go to the hospital or a medical facility, where they can keep an eye on you and make sure the reaction is under control.
Living With Food Allergies –
Having a food allergy is a drag, but it doesn't need to slow a kid down. Your mom, dad, and other adults also can help you steer clear of reactions.
But what if something you really like turns out to be on your "do not eat" list? Today, so many people have food allergies that companies have created lots of good substitutes for favorite foods — everything from dairy-free mashed potatoes to wheat-free chocolate chunk cookies!
Date reviewed: January 2022
Students who have food allergies may need to:
carry an epinephrine auto-injector for emergencies
wear a medical alert bracelet
go to the school nurse to take medicine or assess reactions
have special seating accommodations during lunch to avoid exposure to allergens like peanuts
have alternative snacks or foods for lunches, snack times, or classroom parties
What Teachers Can Do
The best strategy is to help students with allergies avoid the foods and drinks that they are allergic to. Be sure to read the ingredients on food labels and don't allow food in your classroom if it might cause problems.
Students with food allergies may be bullied because of their allergies. Help other students understand the special precautions required due to food allergies.
Students at risk for food allergies must have a plan for handling emergencies. Make sure you, the students, parents, and school nurse all know where the epinephrine auto-injector is stored and how your student will get it quickly if needed
How Do You Know if You Have One?
Sometimes it's easy to figure out that a kid has a food allergy. They might get hives or have other problems after eating it. But other times, what's causing the problem is more of a mystery. Most foods have more than one ingredient, so if a kid has shrimp with peanut sauce, what's causing the allergy — the peanut sauce or the shrimp?
Many people react to a food but are not actually allergic. For example, people with lactose intolerance (say: LAK-tose in-TAHL-uh-runtz) get belly pain and diarrhea from milk and other dairy products. That doesn't mean they're allergic to milk. They don't feel good after drinking milk because their bodies can't properly break down the sugars found in milk.
What Will the Doctor Do?
If you think you may be allergic to a food, let your parents know. They will take you to the doctor to get it checked out.
If your doctor thinks you might have a food allergy, you'll probably go see a doctor who specializes in allergies, called an allergist. This doctor will ask you about past reactions and how long it takes between eating the food and getting the symptom (such as hives).
The allergist might want to do a skin test. This is a way of seeing how your body reacts to a very small amount of the food that is giving you trouble. The allergist will use a liquid extract of the food and, possibly, other common allergy-causing foods to see if you react to any of them. The doctor will make a little scratch on your skin (it will be a quick pinch) and drop a little of the liquid on the scratched area. Different extracts will go on the different scratches so the doctor can see how your skin reacts to each one. If you get a reddish, raised spot, you might be allergic to that food or substance.
Some doctors may also take a blood sample and send it to a lab for testing.
Even though the doctor tests for food allergies by exposing you to a very small amount of the food, you should not try this at home! The best place for an allergy test is at the doctor's office, where the staff is specially trained and could give you medicine right away if you had a serious reaction.