A SHAC is a school board appointed advisory group of individuals who represent different segments of the community. By law, a majority of the members must be persons who are parents of students enrolled in the district and who are not employed by the district. Texas law (Texas Education Code, Title 2, Subtitle F, Chapter 28, Subchapter A, §28.004) requires the establishment of a SHAC for every school district. SHACs are required to meet at least four times each year.
Public Notice: The UT Charter School System SHAC meetings will take place on the following dates at the UT Charter School System District Office – 2200 East 6th St. Austin, TX  78702
Dates
General Topics*
September 21, 2022
Review of Accountability Rating

Campus Improvement Plan

SHAC priorities/responsibilities

Library Policy

November 16, 2022
Strategic Planning

Update on Campus Events

January 18, 2023
Review of Texas Academic Performance Report

School Data Report

SHAC Committee Report

March 22, 2023
Curriculum Updates

Parent Survey Review

May 3, 2023
Parent Survey Results

Summer Events

Beginning of Year Activities

Membership
Each meeting is recorded and posted here:
Healthy Family Initiative
The vision of the University of Texas Elementary School Healthy Families Initiative is to build a community of dedicated students, families, teachers, companies, and organizations to create an environment that not only promotes a healthy and active lifestyle, but provides opportunities for students to actively explore the benefits of this way of life.
The UTES Wellness Fair Resource Guide contains information on community partners who can help your student and family with a variety of health and wellness topics. Click on the link below to learn more: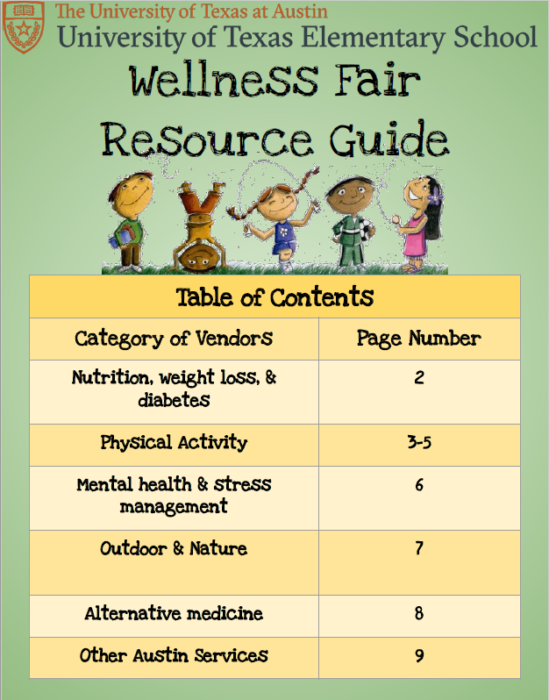 UTES Wellness Fair Resource Guide 2021-2022