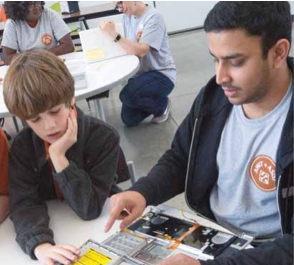 When you experience the student excitement around the field trip to the University of Texas Marine Science Institute in Port Aransas, you understand just how important the partnership between UT Elementary School and The University of Texas at Austin is.
Students look forward to the trip for years—and no wonder. The fifth-graders have the opportunity to take a trip on the research vessel Katy to learn about shrimp trawling techniques, shing industry economics and engineering and mechanics on the boat. They view dolphins in their natural habitat and observe zoo and phytoplankton species under microscopes. The two-day trip also includes a visit to the Texas State Aquarium in Corpus Christi, a wetlands tour, and a beach cleanup focusing on conservation and ecosystems as well as an overnight stay in a dormitory at the Marine Science Institute.
According to fifth-grade science teacher Scarlett Calvin, such eld trips are important to a student's educational experience for a number of reasons. "Life science is so wonderfully connected to students because they all love animals and plant life so much," she says. "Being able to provide an experience for them that actually puts them in the field is so exciting for them. When they are able to apply their learning so organically and meaningfully, they remember it forever. They are researchers, data collectors and change makers on this trip."
UT Charter School System Superintendent Dr. Melissa Chavez explains that although a number of universities across the country have opened public charter schools, often to pursue innovative educational strategies or to have a setting where pre- service teachers can learn, UT Elementary School has a broader mission. "Those goals are very important at UT Elementary, but the school was also established so that academic units at UT Austin have a way to extend outreach to the community and provide professional development opportunities for those academic units," she says.
Other programs and enrichment activities at UT Elementary that are partnerships with the "big UT" include the UT Strings program with the Butler School of Music, eld trips to the Blanton Museum on the UT Austin campus, a special program with the School of Architecture and a STEM partnership with the iSchool. All provide an educational margin of excellence that many elementary schools cannot o er. Other initiatives, such as Active Learning Classrooms with the School of Nursing, provide a eld study and research experience for UT students while supporting student learning.
"By working together, students, faculty and sta at UT Austin and UT Elementary School all learn and benefit from the partnership," says Chavez.