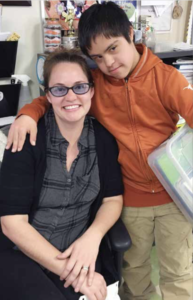 UT Elementary School fifth-grade teacher and UT Austin alumna ('12) Scarlett Calvin is the kind of teacher we all would have liked to have had. Not only is she a great science and math instructor, but she is energetic, cheerful and dedicated to her students. During the 2015-16 school year, one of her students, Alejandro, had the genetic chromosome disorder known as Down Syndrome. Calvin made certain he received the best possible education.
"Working with Alejandro was an honor," said Calvin. "I learned endless lessons about what children with Down Syndrome are capable of. He was able to teach his classmates about inclusion, celebrating differences, and the sciences behind his condition. We ultimately learned that Alejandro is capable of accomplishing anything he sets his mind to, right alongside his peers—and he made us laugh along the way," said Calvin.
She was recently honored with the Lori Tullos Barta Outstanding Educator Award from the Down Syndrome Association of Central Texas. The association sponsors the Buddy Walk annually, and Calvin enlisted her whole class to participate.
In a letter to Calvin, the Outstanding Educator Award Committee wrote:
What set you apart for us was not only the high standards you held for Alejandro, but your expectations of his peers and the school. You provided the supports needed to be included in general edu- cation, the school and the community to the fullest extent possible in all ways, academically, socially and behaviorally. You expected and demanded high outcomes. But you did so in very supportive, encouraging ways that guaranteed his success.
Not only did you go the extra mile with him, but you took the whole class the extra mile with community service. They truly know what it means to make a di erence in their community. By encouraging the class to develop and create a product as a fundraiser, sell what was needed to reach a goal, and then attend the Buddy Walk as supporters of Alejandro, their decisions and attitudes in the years to come will be in uenced in ways that you might never know.
To raise funds for the Down Syndrome Association, Calvin's fth-grade students sold original artwork on greeting cards, attended the Buddy Walk, and gathered coins from students on campus, raising $1,700. About 20 students attended the event with Alejandro and Calvin.
"The Buddy Walk was a perfect community-building and service- learning experience for the fifth-grade class," Calvin explained. "It was a very personal experience for us as we were there to celebrate Alejandro and we were also proud to serve a local organization."