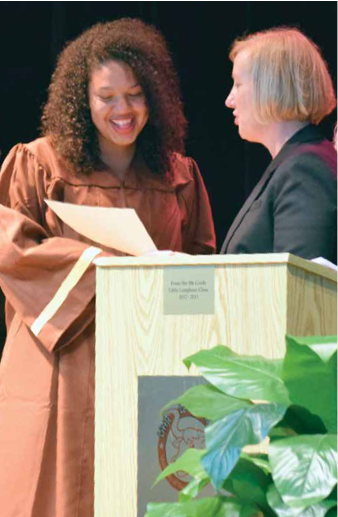 Incoming University of Texas at Austin freshman Alexis Blackman has been a Longhorn since age 5. As the first UT Elementary School alumna to attend the "big UT," she will do so on a full tuition scholarship from the University Co-op. George Mitchell, retired CEO of the Co-op pledged the scholarship in 2008 for the first UTES student to enter UT Austin. Current Co-op President and CEO Cheryl Phifer made the pledge a reality when she presented the scholarship to Blackman in May at the UT Elementary School fifth-grade completion ceremony.
Blackman, who is majoring in electrical engineering, first became interested in engineering in fifth grade due to UT Elementary School's focus on science and math. She went on to attend Ann Richards School for Young Women Leaders and Crockett High School where she earned numerous awards, including the AISD Trustees' Award for remaining in the top 10 percent of her class throughout high school. She attributes her success to the solid foundation she received at UT Elementary.
"UT Elementary School teachers had high expectations for all of us, so we held ourselves to higher expectations," said Blackman. "All of the best teachers I had were at UT Elementary."
Her desire for a career in the computer industry is rooted not just in her early exposure to science but also in the philanthropic values that UT Elementary instills in all of its students. "One major career goal of mine is to develop hardware and software that will be cheaper, so that low-income families will have access to a computer and the internet," she said.