Each year at the fifth-grade completion ceremony, the UT Elementary School's highest honor—the Star of Texas Award—is given to individuals who strongly support the mission of UT Elementary School and whose gifts of time and resources have significantly enhanced the school's programmatic efforts and goals.
Angie Pete Yowell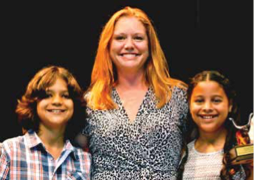 GIVING AND GROWING UT ELEMENTARY
Angie Yowell fell in love with UT Elementary School the day
she arrived on campus in March 2008 as an assistant director for development. She created a marketing and grants program for the school, started a new annual giving program that grew the schools donors and dollars by more than 1,400 percent
and played a key role in the capital campaign to build the new administration building, library, cafeteria and gym. Through the years she was promoted to director of development, but she was more than just an employee. Yowell volunteered as a weekly reader in the Pre-K classroom and later as a mentor.
"When I realized that a 'model demonstration school' meant training new teachers and serving as a partner in improving educational practices, I was hooked," said Yowell. "I wanted to be a small part in helping the mission succeed! Seeing day-in and day-out the inspirational stories of how UTES changed lives made my work fulfilling."
Mary Ledbetter
EDUCATOR EXTRAORDINAIRE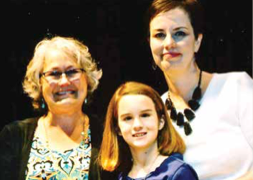 Associate Principal Mary Ledbetter has been at UT Elementary School for nine of her 26 years as an educator. She taught fth grade for eight years at UTES and this year assumed the position of associate principal. Frequently mentioned as a favorite
teacher by UTES alumni, Ledbetter inspires her students to think critically, achieve at high levels and participate in philanthropic and community service projects. In recent years she has been honored as an outstanding teacher by the National Council for the Social Studies and Humanities Texas. As one fifth-grader told us last year, "I love Ms. Ledbetter because she cares about everybody. She's inspiring and passionate about everything we do."
In fall 2016, Ledbetter took her many talents to the Pathfinder Camp, another campus in the UT University Charter School System that serves young men with social and learning difficulties in grades 5-12. She is sure to make an enormous difference in the lives of students there. Superintendent Dr. Melissa Chavez said, "Mrs. Ledbetter has given UT Elementary students and staff more than we could have ever asked for. Mary is a role model for teachers, she inspires and encourages us to strive for greatness. We admire her and learn from her. She is truly a demonstration teacher."
The University Co-op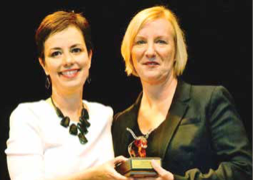 STELLAR PARTNER
The University Co-op has been committed to UT Elementary School since the doors of the school opened in 2003. George Mitchell, long-time president of the Co-op, visited the school
at the beginning of each school year to give every single Little Longhorn three school uniform shirts. Every winter he passed out gifts to each student and brought ice cream for all. It is no wonder students called Mitchell "grandpa." At the school's
very rst fth-grade completion ceremony in 2008, Mitchell announced a four-year scholarship would be given to the rst Little Longhorn to attend the University of Texas at Austin. That scholarship was presented this year not long after Mitchell's retirement. UT alumna Cheryl Phifer assumed the role of president and CEO. She received the Star of Texas Award along with Hulan Swain, assistant to the president.
"Passion for education and service to the community—these two attributes shine forth from the University Co-op and its employees," said Chavez.