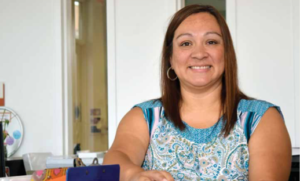 Administrative Assistant Jennifer Montoya's smile has been welcoming UT Elementary School families and students to the school for the past three years. "Helping someone—whether parent or child—is the favorite part of my job," she said.
"Jennifer is indispensable," said Principal Tonya King. "With job duties that range from greeting everyone who comes into the front office, helping with all forms of parent communications including Thursday folders and the website, and other general administrative duties, she helps keep the school running smoothly."
The school has been a significant part of Montoya's life since her daughter Alexus entered third grade at UT Elementary.
Alexus was among the first UT Elementary School students who graduated from high school in 2015, earning a softball scholarship to California State University-Stanislaus. Montoya's two younger children attended UT Elementary School, too, and currently are in the seventh and twelfth grades, both athletes like their older sister. Now that her children are older, Montoya enjoys participating in more tness activities and traveling to California to watch Alexus play softball.
And after all these years at UT Elementary School, what is her favorite event of the year? It remains the first day of school, when she greets returning families and sees how much the students have grown over the summer.