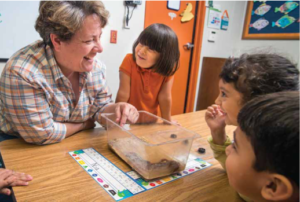 Although Melissa Garcia comes from a family of teachers, she initially took a different career path. After earning a bachelor's degree in business administration, she became a program manager for a market research firm that provided research for the tech industry. "I realized my job was missing something," she said. "I loved my work but missed being around children."
Garcia has now been in the field of education for 21 years; 19 years in the classroom teaching Pre-K and Kindergarten. Along the way she has acquired a master's degree in Curriculum and Instruction Science Education and an administration certificate.
Garcia's Pre-K classroom was a urry of activity, crowded with centers, books and art supplies. Students busily explore the centers and chatter in small groups as they tackle a variety of literacy, science and art activities.
"I enjoy guiding Pre-K students through new discoveries, building on their experience from home and helping them transition socially from being aware of themselves to being aware of others," Garcia said. "The greatest gift I can give to my students is an understanding of acceptance and to enjoy learning."
Garcia has moved beyond the Pre-K classroom in the 2016- 17 academic year. She is now serving as assistant principal, combining all of her knowledge in business and education to serve the entire school.