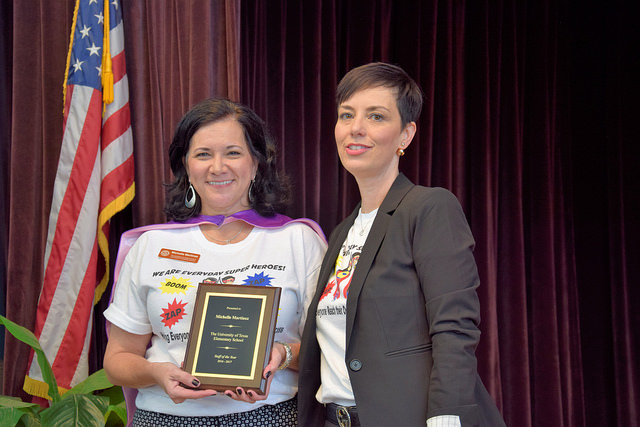 Meet Michelle Martinez, an administrative associate and Public Education Information Management System (PEIMS) coordinator at UT Elementary School. As the superintendent's executive assistant, she takes the leads on purchasing orders for both UT Elementary School and the UT-University Charter School.
Staying on top of multiple job duties can be challenging, however she finds fulfillment in supporting all of the teachers who are making a positive impact on a daily basis.
"It's all about supporting our teaching staff and administrators who have the most challenging job of all – teaching," she says.
Prior to joining UT Elementary, Martinez and her three children lived in El Paso, where she worked for a local school district. She later moved to Austin and found a rewarding career that allowed her to have some work-life balance.
"I wanted to have flexibility in my work schedule for my children," Martinez says. "Eighteen years later I wouldn't have changed a thing!"
She's especially proud to work at a research-based demonstration school that is passionately committed to the students and families it serves.
"UT Elementary and UT-UCS are unique in their mission and goals," Martinez says. "We serve students with diverse needs and some who are in difficult situations.  It's satisfying to know I am a part of such a wonderful organization that is making a difference every day for these students."