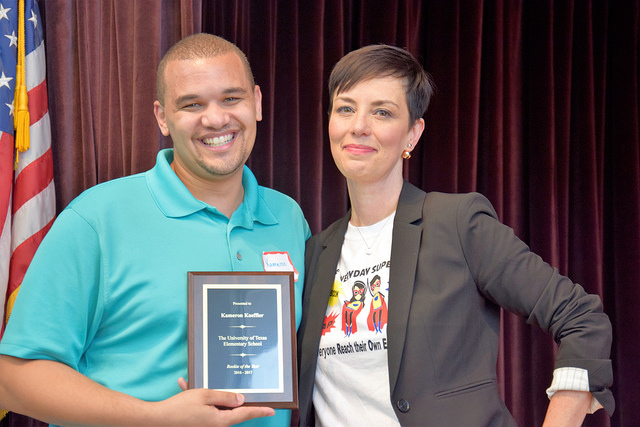 For nearly two years, Kameron Koeffler has been teaching language arts and social studies to third-graders at UT Elementary School. The greatest part of the job, he says, is helping his Little Longhorns grow into lifelong learners.
"I enjoy the freedom that I have as a teacher to incorporate systems, resources and projects that empower my students," Koeffler says. "The learning environment is very reflective of the personalities in the classroom, which keeps me and the students engaged. I also really enjoy how easy it is to connect with the community."
Koeffler teaches an array of subjects including the fundamental elements of social justice, critical components of reading comprehension, essential skills in writing mechanics and third-grade state standards. He also manages clubs, tutoring and summer school. Whether he's in the classroom giving spelling lessons or helping students catch up on their studies in tutoring sessions, he's doing what he loves most: Providing a nurturing, inclusive learning environment for his students.
"School wasn't always a welcome place for me," Koeffler says. "Teaching was the perfect avenue for me to incorporate several of my passions while obtaining a satisfying feeling of making a difference. As I saw firsthand, the various struggles and challenges our students face—and remembering the challenges that I faced—I became even more motivated to get involved and make equitable change in education."
A proud UT Austin alumnus (B.S., College of Education '16) Koeffler is grateful for the lessons he has learned early into his teaching career at a school that feels like a close-knit community.
"I've had countless memorable moments in my teaching experience," He notes. "From student teaching to substitute teaching to becoming a full-time teacher, I have bonded with students, parents and the community of UTES."
Koeffler is especially thankful for his third-graders who, semester after semester, show him that learning is a two-way street.
"I am very thankful and appreciative of all of the people who work to support me, the campus and most importantly, the students," Koeffler says. "It is truly an honor to be at place where I am free to be myself, free to encourage students to be themselves, free to try new things and free to make a lasting difference."