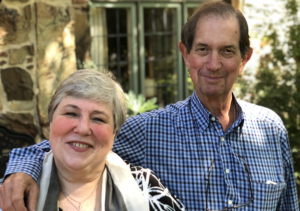 For many young, fledgling readers, storytime on the carpet is the most anticipated classroom activity. Jan McMillan (B.S. Education '69, CALT) especially loves this magical time of day when she reads aloud to children. Though she may be retired from her 35-plus career in teaching, she continues to ignite the love of learning while volunteering at a local school.
"What I loved most about teaching was that moment when a student first learned how to read," McMillan recalls. "It's magical seeing their world light up when the words first come to life on the page."
In addition to her volunteer work, she and her husband, Dick McMillan (B.B.A. '68, J.D. '71), proudly support UT Elementary School. Impressed with UT Elementary's robust social and emotional learning curriculum and dedicated team of faculty and staff, they recently provided the school with a $500,000 gift. Half of the donation will go toward the new Jan McMillan Family Endowment for Reading Intervention, and the other portion of the gift will be allocated to phase two of the school's capital campaign.
The new endowment supports special learning programs and services for students with dyslexia and other learning disabilities. This area of teaching is especially important to McMillan, who devoted much of her career to special learning when her daughter was diagnosed with dyslexia.
"I have a soft spot for kids who need special help with reading," says McMillan, who currently consults as a licensed certified academic language therapist. "I've found that smaller classes with individual help can really make a difference."
From her many years of teaching in Austin, Midland and Dallas, McMillan knows that much of the learning happens outside the classroom walls. That's why she and Dick dedicated $250,000 of their gift to revitalizing the school's main courtyard, transforming it into a robust early childhood play yard. The funds will go toward new play equipment, a covered sports court, tricycle paths and kids-friendly landscaping. In recognition of this gift, the new play area will be named after the McMillans' good friend Edwin Sharpe, a UT Austin College of Education professor—and fellow Longhorn—who serves as the school's long-time management board chair.
"It's important for young children to be outside, and I know the school does a lot of educational activities out in the play areas, so we hope these new additions will make the learning even more fun and enriching," says McMillan.
The McMillans, who reside in Dallas and Midland, enjoy visiting UT Elementary whenever they're in Austin. They are the proud parents of four grown children and nine grandchildren—with two more on the way.
"UT Elementary is a wonderful school and it's a real pleasure being involved," McMillan says. "It's one of my favorite places to visit when I'm in Austin."