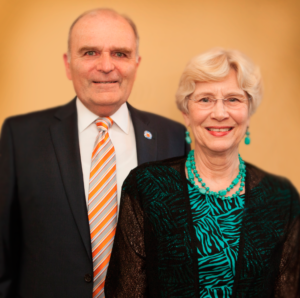 Jim and Sheri Quick discovered UT Elementary School in an Alcalde story highlighting the school's diverse campus community and unique teaching model. Interested in learning more about the research-based demonstration school, they made the trip from Arlington to East Austin to tour the campus.
"I like that it's a very diverse school and that they make sure children learn from each other, "says Sheri, a UT Austin alumna (College of Education, '68) who worked as an elementary school teacher for more than 40 years. "I was also interested in the fact that they are sharing their teaching methods with other campuses, which is very important because the education system needs more improvement."
During the campus tour, Jim and Sheri learned about the school's many offerings—from the outdoor education classrooms to the home-cooked school lunches, freshly made with vegetables cultivated by the students in the communal garden. They were most impressed by the hubbub of activity in the classrooms—where teachers emphasize hands-on interactive learning.
"We saw that the children were very engaged and that they were working together in various activities," says Jim, who earned an A.B. with honors from Colgate University and a Ph.D. from the University of Houston. "I think it's a great idea to teach children how to learn in different ways, and to have them work in groups because they'll need those skills later in life when they're working with adults."
While watching the students at work, Jim saw a connection between the Little Longhorns and the top-performing undergraduates in UT Arlington's Goolsby Leadership Academy.  Inspired by their observations, the Quicks established the Sheri Schember Quick and James Campbell Quick Endowed Excellence Fund to support the school's specialized programs.
"Learning social skills and interactive learning skills early on is really valuable," says Jim, who served as the John and Judy Goolsby-Jacqualyn A. Fouse Endowed Chair. "The way they build relationships resonates with what we do with the Goolsby Academy."
Strong advocates for education equality, Jim and Sheri are proud to support a school that focuses on the total wellbeing of the child. In addition to UT Elementary, they support a number of programs and initiatives that help students reach their full potential.
"UT Elementary sets the mark by getting kids engaged in learning early on, and I think that's really important," Jim says. "We have too many kids in Texas and around the country who aren't locked into that process."
A widely published researcher in the areas of leadership and mental health, Jim notes that the U.S. education system has been a source of discrimination since its advent in the early 1900s. He sees how schools like UT Elementary are working to bridge the systematic achievement gap.
The Quicks are excited to see what the future holds for the Little Longhorns. What's truly unique about the school, Sheri says, is that the teachers are giving them the support they need to chart their own paths—whether that means pursuing a Ph.D. at the "Big UT" or exploring exciting career paths at a vocational school.
"The child doesn't need to go to college to be happy and productive in society," says Sheri, who is now retired and volunteering as a teacher in her community. "These Little Longhorns are already finding their niche in life and getting the skills they need to be productive."
Jim and Sheri are proud parents of three children and grandparents of four grandchildren. They currently reside in Arlington.