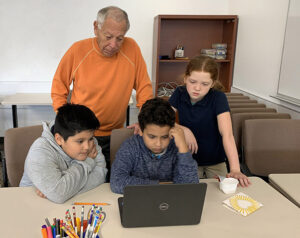 It isn't many students who have the chance to be mentored by someone as dedicated as Mickey Klein, a UT Elementary School mentor for 14 years. Even though Mr. Klein is retired but continues to pursue professional and personal interests, he also wanted to find a way to stay involved in the community and share his experiences with the next generation.
For a few hours every week, Mr. Klein works with four fourth- and fifth-grade students on semester-long projects on a topic of their choice.  Even with four students, he is able to provide each student with individual time, getting to know them very well and encouraging them on their projects. He helps students research, write and create entire presentations.
Last semester, Mr. Klein mentored Bader, Corinna, Noah and Sophia. All of the students eagerly said that they loved their time working with him.  One even said it was his 'favorite part of the week.'
Corinna, whose project was on singer Jess Glynne, said that because of the smaller group setting, "it is easier for him to work with us." She felt she had more of his attention than she could get from a teacher in a classroom of 20 students. While working on a project about computers, Noah echoed Corinna's sentiment. He said working with Mr. Klein is "more peaceful" and added that it was "really fun."
Bader said he "feels special" getting to work on his project about astronauts with Mr. Klein since not all of the students in his class have the opportunity. He added that he appreciated Mr. Klein's patience while working with them.
While she was typing up her notes on female animators, Sophia spoke about enjoying the flexibility of being able to work on a project really interested her.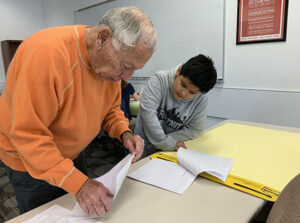 Research has shown that mentors have a lasting impact on the lives of children. It is easy to understand why when you talk to Mr. Klein about his experiences at UT Elementary School. He is the students' biggest cheerleader. He speaks about each student with excitement, knowing that each child feels the love, beyond his words. When asked about why he volunteers, he said, "My desire is to impart some of my life experiences and knowledge to the younger generation in the hope that I can inspire them to get a deeper understanding of the world." He included; "As a consequence, they inspire me, teach me, make me happy and every day when I leave, they have given more to me than I have to them."
For years to come, all of the students who work with Mr. Klein will remember their time with him. They will remember feeling special and being heard.
To learn more about becoming a mentor or to volunteer with the University of Texas Elementary School, please contact Lily Dominguez at Lily.Dominguez@austin.utexas.edu.