The following is an important message from the UT Charter School System Superintendent Dr. Melissa M. Chavez and UT Elementary Principal Dr. Nicole Whetstone.
If you have any problems viewing this message, please see the attached documents in English and Spanish (ES).
El siguiente es un mensaje importante del Dr. Melissa M. Chavez, Superintendente del Sistema de Escuelas Charter de UT y la Dra. Nicole Whetstone, Directora de UT Elementary.
Si tiene algún problema para ver este mensaje, consulte los documentos adjuntos en inglés y español (ES).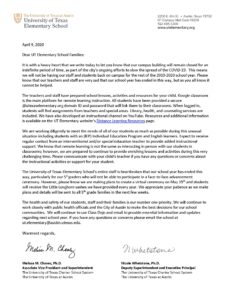 Click here to download the letter in English. Haga clic aquí para descargar la carta en inglés: 9 Apr 20 UTES School Update
Haga clic aquí para descargar la carta en español.  Click here to download the letter in Spanish: 9 Apr 20 UTES School Update ES