Congratulations to Carly Kennedy – UTES Teacher of the Year!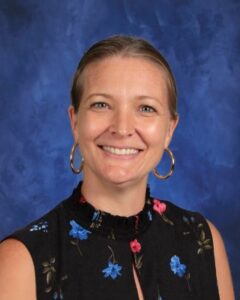 Carly Kennedy comes from a long line of teachers. Her father was a biology teacher, her mother opened her own school and her step-father was a professor at the University of Houston. While she explored other careers, she "kept coming back to teaching."  Continuing in her family's footsteps, Ms. Kennedy is a 3rd grade math and science teacher at UT Elementary. She earned dual degrees in Special and General Education as well as her Masters in Multicultural Special Education from UT Austin. Carly has been teaching for 13 years and has been with UTES for four.
Every Teacher of the Year is nominated by their peers and in Carly's nominations there was a repetition of the word "respect." Carly was humbled to learn that her peers recognize this attribute in her work. To create a culture of respect in her classroom, she explained that as the year goes along, teachers and students learn to respect one another by earning each other's trust and showing responsibility. Carly also stated that her number one expectation in the classroom is for the students to treat each other with respect. "They are children and they are learning. It is OK to not be at your best every day, but students should bring their 'best self' – whatever it is that day – to the classroom."
Ms. Kennedy loves bringing in ways for students to be hands-on into the classroom. To better understand the solar system, students use balls to show planet order.  While learning at home, students practiced the concept of 'rotation' by rotating around a family member or a piece of furniture.
Another important aspect to her teaching is learning outside of the classroom. This April, when Venus was visible in the morning sky, Ms. Kennedy made sure the students took the time to see the planet for themselves and build the connection to what they had been learning in the classroom.
As a math and science teacher, she is aware that she has to build bridges for students overcome their preconceived ideas of their abilities. In math, students become 'investigators;' they learn patterns and create their own resources and guides that that they can take home. This has helped students take ownership of their learning. Ms. Kennedy was so happy to hear students say: "I love math now! It's a game."
Carly's inspirational ways of providing creative, hands-on learning opportunities for her students and her commitment to building a classroom full of respect and responsibility is why she is UT Elementary's  2019-2020 Teacher of the Year.