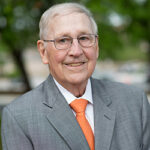 The Dan Burck Visionary Award was established in 2017 to honor long-standing supporters who have made a remarkable commitment to the success of UT Elementary School. The award is named after R. D. (Dan) Burck (1933-2015).
Dan Burck was born in 1933 in Austin, Texas. A 1956 graduate of The University of Texas at Austin, Dan was a leader at the University of Texas System for decades. He first joined the UT System in 1988 as vice chancellor for business affairs. He rose to the positions of executive vice chancellor in 1992 and chancellor in 2000.
During his tenure as UT System chancellor, Dan was instrumental in con­ceptualizing and establishing the University of Texas Elementary School. Often referring to UT Elementary as "my school," Dan was a guiding force in the lives of students and their families. He and his wife Penny served in various leadership roles at UT Elementary, including as part of the school's Manage­ment Board and Development Council.
UT Elementary is grateful to Chancellor Burck for his unwavering support of our school. His legacy lives on through the thousands of lives that he continues to touch through the students, teachers, families, alumni and friends of UT Elementary.
2020 Honoree
Gregory Fenves
(29th President of the University of Texas at Austin)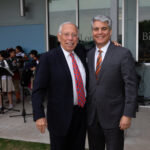 Former UT Austin President, Gregory Fenves was a champion for UT Elementary who supported the school and considered it one of his priorities. With his support, the school was able to complete its capital campaign and open the remodeled classroom facilities in 2018 and the new playground in 2019.
 Pictured: Mickey Klein and Gregory Fenves
2019 Honoree
Pat Oles
(BBA Finance '89)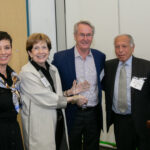 Pat Oles was the chair of the UT Elementary Development Council for 17 years. Pat spearheaded the capital campaign which successfully raised the funds to build UT Elementary in East Austin. UT Elementary is grateful for his faith in the school and for his leadership.
 Pictured: Dr. Melissa Chavez, Penny Burck, Pat Oles and Mickey Klein
2018 Honorees
Michael L. "Mickey" Klein and Jeanne Klein
(B.S. Petroleum Engineering '58; L.L.B. '63) and (B.S. Education '67), respectively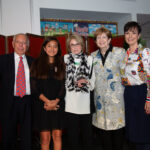 Mickey and Jeanne Klein have been part a vital of the UT Elementary Community for more than a decade. In addition to being founding members of the UT Elementary Development Council, Mickey regularly volunteers as a mentor in the classroom, and Jeanne played a pivotal role in the development of the Social Emotional Learning Program and its implementation at UT Elementary.
 Pictured: Mickey Klein, UT Elementary Alumna Makailynn Garcia, Jeanne Klein, Penny Burck and Dr. Melissa Chavez
2017 Honoree
Dr. Edwin Sharpe
(B.A. Economics '69; MBA Business Administration '70 and Ph.D. Higher Education Administration '80)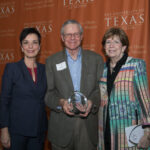 Dr. Edwin Sharpe was the founding chair for the Management Board for UT Elementary and had continued to serve on the Management Board. He has assumed numerous roles in the University of Texas System, including Executive Vice Chancellor for Academic Affairs. He played a major role in building the university's relationship with neighborhoods in East Austin in the 1980s and has served on many local and national boards—most with an educational focus.
 Pictured: Dr. Melissa Chavez, Dr. Ed Sharpe and Penny Burck