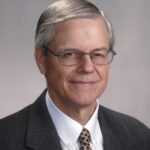 Dr. Edwin Sharpe has played many, many roles at the University of Texas and the University of Texas system since arriving on the Forty Acres as a freshman in 1964. He has been a student, a graduate student, a professor, a vice president, and a vice chancellor. But one of his greatest contributions to the university has been establishing UT Elementary School, along with the late Dan Burck, former Chancellor of the UT System, and Dr. Marina Walne, a lifelong educator.
Sharpe is often called the "godfather" of the school, and has attended every school management board meeting for the past 17 years—170 in all.
Dr. Melissa Chavez, superintendent for the UT Charter School System says, " I have learned what it truly means to be a transformational leader by sharing the leadership role of the school with Dr. Sharpe for almost two decades. He has been my coach, mentor and friend. The school community loves him very much and he will be dearly missed ."
Sharpe's path in education may not have happened had it not been for his service in the military. When he was getting ready to begin working on an MBA in graduate school, the draft deferment for graduate school was abolished. And even though he had marched in protests several times against the War in Vietnam, he signed up for the ROTC program. Upon completion of his MBA, Sharpe was obligated to spend two years as an officer in the army. One of those years, 1971-72, was in Vietnam. In a 2010 interview with DDCE, Sharpe recalled the experience as life changing.
"It changed me significantly in terms of what I valued and where I wanted to spend my time, both professionally and in some other areas too," he said. "I imagined that when I finished my MBA and had gone into business, it would have probably been with a financial institution or investment institution but when I got out of the Army, my interests really weren't in that direction."
After returning home to Central Texas, Sharpe realized that his interests did lie in higher education administration. He reflected on the types of administrators he had observed during his years as a student as being autocratic and sometimes forceful. "It had a significant impact on my view of the way that administrators should really deal with not only the campus community, but the broader community in the Austin area and around the state," Sharpe said. "You know, there had been a long tradition of the way the university operated, so the notion of change and transformation was not a very comfortable one."
He began the doctoral program in the College of Education in 1974 but also began working for the Vice President of Student Affairs, Ron Brown, in 1975. He has been employed continuously at UT or in the UT System since then. And although the university has shaped his career, the reverse is true as well. Sharpe has helped make the university more welcoming to those beyond campus as well as to students from all walks of life.
When the university began buying land in the Blacklands neighborhood of East Austin, Sharpe was called upon to begin working with residents more collaboratively than university representatives had done in the past. He became well known in the community for his efforts. Along with history professor George Wright, Sharpe worked with students to begin the annual Heman Sweatt Symposium on Civil Rights in 1987. Later, as the Vice President for Administration, Sharpe recruited Dr. James Hill to become an associate vice president in 1993. Hill went on to become UT Austin's first Black vice president.
In 1998 Sharpe was named Vice Chancellor for Academic Affairs for the UT System. While there, he was instrumental in the development of the UT System plan for P-16 education known as Every Child, Every Advantage. He explained, "We tend to look at education as K-12, and then higher education, and don't think of it as a continuum, and the P-16 concept really means that we should look at education from birth to college and careers, a continuum focused on the social and intellectual development of students as they move through this continuum or pipeline."
In 2002, he was tasked by Chancellor Dan Burck with leading the creation of an elementary school. "The school was to be a public charter school designed to serve a diverse group of students in East Austin," says Sharpe. Along with a team that included Burck, Walne, Perry Lorenz and Pat Oles, a tract of land that had been owned by the city was found in a relatively undeveloped part of East Sixth St. The rest, as they say, is history. Since that time, the school has grown to serve students Pre-K through Grade 5, has played a role in training more than 500 pre-service teachers, and maintained its mission of serving as a demonstration school for best practices in urban education. Throughout its history, the school has served a majority of students from low-income backgrounds.
Always unassuming, humble and kind, Dr. Sharpe is a role model for servant leadership. His philosophy has always been at the core of his work at The University of Texas. "I think that ultimately there is a human need—that we as human beings have a need to know each other, to understand the challenges that we each have, and open our hearts and minds to that community feeling—that sense that we really are in this together, and we're able to deal with the challenges collectively and find paths to move forward together."
Whether it has been working with East Austinites, helping the university overcome racism, or building a school so students from diverse backgrounds can succeed academically and in life, Ed Sharpe has brought hearts and minds together for the highest calling.
What's Next for Dr. Ed Sharpe?
When asked about his and wife Molly's plans for retirement beginning in June 2021, here's what Dr. Sharpe said:
That is a good question, and we are just starting the process of discussing some of our options. We both are interested in being part of civic study that deepens life experience and understanding. Our recent involvement with the "If These Walls Could Talk…" exhibit and performance experience at the Neill-Cochran House Museum will serve as an inspiration for our future civic participation, building on relationships that we've been fortunate to develop through the decades. Additionally, we are looking forward to the freedom to have adventures on a spur of the moment basis!
Many of you reading this article stepped forward and joined in the process and funding needed to create, nurture and sustain UT Elementary School. I thank each of you for what you have done to create and maintain the success of UTES. And I know that you join Molly and me in paying tribute to our outstanding Superintendent, Dr. Melissa Chavez.