UT Elementary's beloved Chef Wayne passed away in early September. His longtime coworker and friend Chef Kimberly shared her memories of him.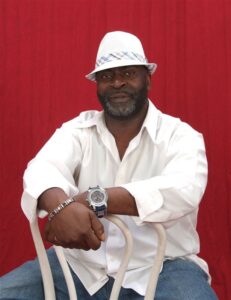 The UT Elementary community is deeply saddened by the loss of our beloved Chef Wayne.  Wayne George Jr. passed away on September 6 from complications due to a car accident in August. Chef Wayne had been with UT Elementary for almost 5 years where he worked closely with and was longtime friends with Head Chef Kimberly Wilson.
Chef Kim described Wayne as a big man with a strong presence and he knew that his role at UT Elementary was about more than just preparing healthy food for the kids. "He treated the students with respect and he made sure it was returned," Kim said. Wayne took pride in ensuring every student said good morning and they learned to use their words to get what they wanted.
Kim will remember Wayne as a person who liked food and he liked for it to taste good. He had an adventurous palate, eating all kinds of foods from all over the world. He will also be remembered for his hard work. Chefs Kim and Wayne serve almost 300 students, two meals a day and the food is not heat and serve, they actually prepare it.
Chef Kim, who has known Chef Wayne and his family for many years, spoke at his memorial service. She told his family: "Wayne was more than a coworker. He was a good friend, he always had my back and he will always have a piece of my heart." UT Elementary is grateful to our community who came together to support our students and staff and our hearts go out to Chef Wayne's friends and family.
---
Chef Wayne Recordado Por El Chef Kim
La comunidad de la Primaria UT está profundamente entristecida por la pérdida de nuestro querido Chef Wayne. Wayne George Jr. falleció en septiembre 6 por complicaciones debido a un accidente automovilístico en agosto. El chef Wayne había estado en la escuela primaria UT durante casi 5 años, donde trabajó de cerca y fue amigo de la chef principal Kimberly Wilson durante mucho tiempo.
El chef Kim describió a Wayne como un hombre grande con una fuerte presencia y sabía que su papel en la primaria UT era más que simplemente preparar comida saludable para los niños. "Trató a los estudiantes con respeto y se aseguró de que se lo devolvieran", dijo Kim. Wayne se enorgullecía de asegurarse de que todos los estudiantes dieran los buenos días y aprendieran a usar sus palabras para obtener lo que querían.
Kim recordará a Wayne como una persona a la que le gustaba la comida y le gustaba que tuviera buen sabor. Tenía un paladar aventurero, comiendo todo tipo de alimentos de todo el mundo. También será recordado por su arduo trabajo. Los chefs Kim y Wayne sirven a casi 300 estudiantes, dos comidas al día y la comida no se calienta y se sirve, en realidad la preparan.
El chef Kim, quien conocía al chef Wayne y a su familia durante muchos años, habló en su servicio conmemorativo. Ella le dijo a su familia: "Wayne era más que un compañero de trabajo. Era un buen amigo, siempre me apoyó y siempre tendrá un pedazo de mi corazón". La Primaria UT está agradecida con nuestra comunidad que se unió para apoyar a nuestros estudiantes y personal y nuestro corazón está con los amigos y la familia del Chef Wayne.