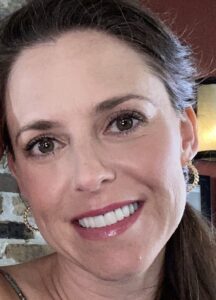 In response to the learning loss during the pandemic, the UT Charter School System is implementing Extended Learning programs at all campuses. Extended Learning means educational programming that extends beyond the traditional school day; that can be tutoring after school, on weekends and even programs into the summer.
Jessica Elliott is the new Extended Learning Programs Coordinator and she shared a little more about our new program and her plans. Texas House Bill 4545 mandated that schools provide 'accelerated learning' to students to help them get back on track to grade advancement and graduation. Accelerated  learning may sound intimidating, but it just means that programs will find the most effective and efficient ways to help students catch up from learning loss.
"The beauty of our program is that our teachers are stepping into the role of tutor. Teachers already have established relationships with students and they know their content." Jessica explained.
Jessica comes to our system with a wide breadth of education experience. She holds multiple credentials including K-8 education and Montessori and she even worked for her own consulting business providing workshops and trainings for students, families and faculty.
Jessica has been visiting campuses and she recently visited our San Antonio schools. "I was impressed by each campus. Whether students were staying 30 days or 18 months, they all received a consistent level of presence and staff commitment.
Our schools are very happy to have Jessica on board and we look forward to the implementation of new programs to better serve our students.
---
Nuevo Coordinador De Aprendizaje Extendido
En respuesta a la pérdida de aprendizaje durante la pandemia, el Sistema de Escuelas Charter de UT está implementando programas de Aprendizaje Extendido en todos los campus. Aprendizaje Extendido significa programación educativa que se extiende más allá de la jornada escolar tradicional; eso puede ser tutoría después de la escuela, los fines de semana e incluso programas en el verano.
Jessica Elliott es la nueva Coordinadora de Programas de Aprendizaje Extendido y compartió un poco más sobre nuestro nuevo programa y sus planes. El Proyecto de Ley 4545 de la Cámara de Representantes de Texas ordenó que las escuelas brinden "aprendizaje acelerado" a los estudiantes para ayudarlos a volver al camino en el avance de grado y la graduación. El aprendizaje acelerado puede parecer intimidante, pero sólo significa que los programas encontrarán las formas más efectivas y eficientes de ayudar a los estudiantes a recuperarse de la pérdida de aprendizaje.
"La belleza de nuestro programa es que nuestros maestros están asumiendo el papel de tutores. Los profesores ya han establecido relaciones con los estudiantes y conocen su contenido ". Jessica explicó.
Jessica llega a nuestro sistema con una amplia experiencia educativa. Posee múltiples credenciales, incluida la educación K-8 y Montessori, e incluso trabajó para su propio negocio de consultoría brindando talleres y capacitaciones para estudiantes, familias y profesores.
Jessica ha estado visitando campus y recientemente visitó nuestras escuelas de San Antonio. "Me impresionó cada campus. Ya sea que los estudiantes se queden 30 días o 18 meses, todos recibieron un nivel constante de presencia y compromiso del personal.
Nuestras escuelas están muy felices de tener a Jessica a bordo y esperamos la implementación de nuevos programas para servir mejor a nuestros estudiantes.