This fall, Dr. Autumn Leal, Assistant Superintendent for the UT Charter School System coordinated with both UT Health Services and Austin Public Health to provide Flu and Covid vaccinations free of charge to students and staff at UT Elementary.
Prior to the Covid vaccination clinics, UT Elementary hosted sessions in English and Spanish for UTES parents. This was a great way for parents to learn more and ask questions.
UT Health vaccinated 30 staff for the flu on October 26. On November 3, Austin Public Health was kept very busy while they vaccinated 30 students for the flu and 33 staff for Covid, which included many staff receiving their 3rd dose boosters.
Following the CDC guidance of vaccinations for 5-11 year old's, Austin Public Health returned to UTES to provide first dose Covid vaccinations for 59 students.
Another Covid vaccination clinic is planned for December 10. If you are a UTES parent, please contact the front desk for additional information.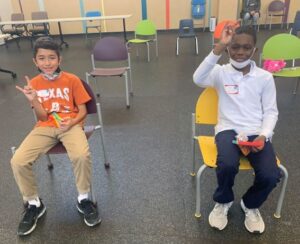 Clínicas De Vacunas En La Escuela Primaria UT
La Dra. Autumn Leal, Superintendente Asistente del Sistema de Escuelas Charter de UT, coordinó con UT Health Services y Austin Public Health para proporcionar vacunas contra la influenza y COVID sin cargo a los estudiantes y al personal de la escuela primaria de UT.
Antes de las clínicas de vacunación de COVID, la Primaria UT organizó sesiones en inglés y español para los padres de UTES. Esta fue una excelente manera para que los padres aprendan más y hagan preguntas.
UT Health vacunó a 30 miembros del personal contra la gripe en Octubre 26. En Noviembre 3, Austin Public Health estuvo muy ocupado mientras vacunaban a 30 estudiantes contra la gripe y 33 miembros del personal para COVID, lo que incluyó a muchos miembros del personal que recibieron su tercera dosis de refuerzo.
Siguiendo la guía de los CDC sobre vacunas para niños de 5 a 11 años, Austin Public Health regresó a UTES para proporcionar la primera dosis de vacunas para el COVID para 59 estudiantes.
Se planea otra clínica de vacunación de COVID para Diciembre 10. Si usted es padre de UTES, comuníquese con la recepción para obtener información adicional.