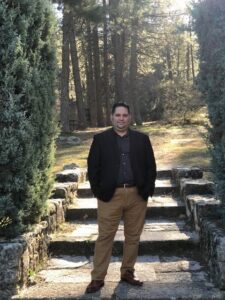 Mr. Rafael Gómez is very excited to join UT Elementary and the school is just as excited to have him.  Mr. Gómez joined UTES at the end of October when Melissa Garcia moved to a position within the UT Charter School System.
Mr. Gómez was born in the Rio Grande Valley but grew up in North Texas where he became a Cowboys fan. He attended Southern Methodist University where he had the opportunity to study abroad. During graduate school, he was a substitute teacher and he discovered he had a passion for teaching. For fourteen years, he was a teacher in both Texas and Madrid, Spain. While in Spain, he rose to the position of "sub-director" which is akin to Assistant Principal. When he returned to Texas, he became an Assistant Principal in Pflugerville ISD.
With seventeen years of experience as a bilingual teacher and administrator, we are happy to have him join our school and our school system. We look forward to learning more about Mr. Gómez and maybe spending some time tailgating with him during a football game.
---
Mr. Rafael Gómez está muy emocionado de unirse a la Primaria UT y la escuela está igualmente emocionada de tenerlo. Mr. Gómez se unió a UTES a finales de octubre cuando Melissa García se trasladó a un puesto dentro del Sistema de Escuelas Charter de UT.
Mr. Gómez nació en el Valle del Río Grande pero creció en el norte de Texas, donde se convirtió en fanático de los Cowboys. Asistió a la Universidad Metodista del Sur donde tuvo la oportunidad de estudiar en el extranjero. Durante la escuela de posgrado, fue maestro sustituto y descubrió que tenía pasión por la enseñanza. Durante catorce años, fue maestro tanto en Texas como en Madrid, España. Mientras estuvo en España, ascendió al puesto de "subdirector", que es similar a Asistente de Director. Cuando regresó a Texas, se convirtió en Asistente del Director en Pflugerville ISD.
Con diecisiete años de experiencia como maestro bilingüe y administrador, estamos felices de que se una a nuestra escuela y nuestro sistema escolar. Esperamos aprender más sobre Mr. Gómez y tal vez pasar algún tiempo con él durante un partido de fútbol.