UT Elementary is very happy to have named Athziry Loredo as our Staff of the Year. Athziry is an Instructional Aide at UT Elementary who provides additional classroom support for students. Instructional Aides assist teachers by working directly with students who may need additional support academically or behaviorally.
Ms. Loredo was nominated because her hard work is seen by all. She works with all of the students to help them improve their skills and abilities. Tutoring, cleaning or preparing for the day, Athziry is always ready and willing to help however she can. UT Elementary is incredibly grateful to have Ms. Loredo on our team and very happy she is our Staff of the Year.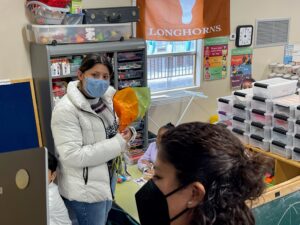 2022 UTES Personal del Año: Athziry Loredo
UT Elementary está muy feliz de haber nombrado a Athziry Loredo como nuestro personal del año. Athziry es una ayudante de instrucción en la escuela primaria UT que brinda apoyo adicional en el salón de clases a los estudiantes. Los asistentes de instrucción ayudan a los maestros trabajando directamente con los estudiantes que pueden necesitar apoyo adicional académico o conductual.
La Sra. Loredo fue nominada porque todos ven su arduo trabajo. Ella trabaja con todos los estudiantes para ayudarlos a mejorar sus habilidades y destrezas. Dando clases particulares, limpiando o preparándose para el día, Athziry siempre está lista y dispuesta a ayudar en lo que pueda. UT Elementary está increíblemente agradecida de tener a la Sra. Loredo en nuestro equipo y muy feliz de que ella sea nuestro Personal del Año.