For many students, entering Kindergarten is a major transition in their lives. It is also a major change for parents. When kindergarteners enter Ms. Norma Robinson's class, they are welcomed with very engaging lessons to encourage their curiosity and the warmth of a caring teacher. Parents, many who are having their children away from the them for the first time and also met with the same care from Ms. Robinson and it is because of these relationships that Norma was named UT Elementary's Teacher of the Year.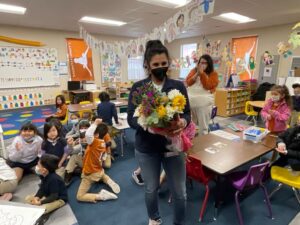 One of her nominations wrote: "She goes above and beyond to help her students succeed and builds strong relationships with her parents." Her nominators noted that she is always willing to help out, she plans amazing lessons and that she "…treats staff like family." Ms. Robinson builds the strong academic foundation for our Little Longhorns to become lifelong learners and we are grateful that she is our Teacher of the Year.
2022 UTES Maestra del Año: Sra. Robinson
Para muchos estudiantes, ingresar a Kindergarten es una transición importante en sus vidas. También es un cambio importante para los padres. Cuando los niños de jardín de infantes ingresan a la clase de la Sra. Norma Robinson, son recibidos con lecciones muy interesantes para fomentar su curiosidad y la calidez de una maestra cariñosa. Padres, muchos de los cuales tienen a sus hijos lejos de ellos por primera vez y también se encontraron con el mismo cuidado de la Sra. Robinson y es debido a estas relaciones que Norma fue nombrada Maestra del Año de la Escuela Primaria UT.
Una de sus nominaciones escribió: "Ella va más allá para ayudar a sus estudiantes a tener éxito y construye relaciones sólidas con sus padres". Sus nominadores señalaron que ella siempre está dispuesta a ayudar, planea lecciones increíbles y que "… trata al personal como familia". La Sra. Robinson construye una sólida base académica para que nuestros Little Longhorns se conviertan en aprendices de por vida y estamos agradecidos de que sea nuestra Maestra del Año.