Little Longhorn Alumnus Frank Roe on what it takes to earn your college degree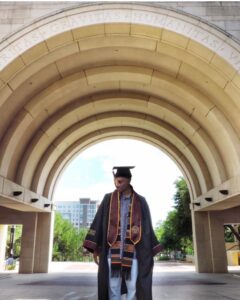 Frank Roe (UT Elementary class of 2009) only attended UT Elementary for a short time but it left an impact on him. What he remembers about UTES is that his teacher Ms. Ledbetter "made it a fun and safe environment." He also remembered that as a fifth grader, the teachers "really wanted us to get in to good middle schools." He recalled when the middle schools visited the UT Elementary campus so all of the students could learn that they had options for their move into secondary schools.
Last month, Frank graduated from Texas State University, earning his degree in psychology. As with most students navigating school, work and the pandemic, his classwork took a little longer than four years but the most important point to remember is that he didn't give up. What made Frank persist? He answered: "I wanted my degree. I wanted to be the first person in my immediate family to graduate from college. Not to mention, it would be a waste. All of the time and energy I already had in it."
He included some sage advice for his fellow Little Longhorns on their secondary and postsecondary journeys: "Keep doing what you are doing and don't fall behind or you won't reach your goal. Surround yourself with positive people." His most important piece of advice: "many of us are told in high school that our college professors won't care about us. That's not true. Get to know them, be truthful and upfront with them.  Professors do care."
Frank is currently working at a residential treatment center as he is preparing for graduate school. Following his psychology degree, he plans to earn his master's degree to become a professional therapist.
UT Elementary alumni have consistently higher rates of postsecondary enrollment and equal rates of college persistence as compared to Central Texas and statewide students. Data sourced from the National Student Clearinghouse and E3 Alliance.
---
Little Longhorn Alumnus Frank Roe sobre lo que se necesita para obtener su título universitario.
Frank Roe (clase de primaria de UT de 2009) sólo asistió a la primaria de UT por un corto tiempo, pero dejó un impacto. Lo que recuerda de UTES es que su maestra, la Sra. Ledbetter, "hizo que fuera un ambiente divertido y seguro". También recordó que, como estudiante de quinto grado, los maestros "realmente querían que entráramos en buenas escuelas secundarias". Recordó cuando las escuelas secundarias visitaron el campus de la escuela primaria UT para que todos los estudiantes pudieran saber que tenían opciones de desplazarse a las escuelas secundarias.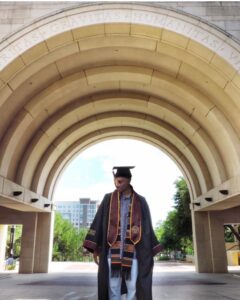 El mes pasado, Frank se graduó de la Universidad Estatal de Texas y obtuvo su título en psicología. Al igual que la mayoría de los estudiantes que navegan por la escuela, el trabajo y la pandemia, su trabajo de clase tomó un poco más de cuatro años, pero el punto más importante para recordar es que no se rindió. ¿Qué hizo que Frank persistiera? Él respondió: "Yo quería mi título. Quería ser la primera persona de mi familia inmediata en graduarse de la universidad. Sin mencionar que sería un desperdicio. Todo el tiempo y la energía que ya tenía en él".
Incluyó algunos consejos sabios para sus compañeros Little Longhorns en sus viajes de secundaria y postsecundaria: "Sigue haciendo lo que estás haciendo y no te quedes atrás o no alcanzarás tu meta. Rodéate de gente positiva." Su consejo más importante: "a muchos de nosotros nos dicen en la escuela secundaria que nuestros profesores universitarios no se preocuparán por nosotros. Eso no es cierto. Conózcalos, sea honesto y sincero con ellos. A los profesores les importa".
Frank trabaja actualmente en un centro de tratamiento residencial mientras se prepara para la escuela de posgrado. Después de su título en psicología, planea obtener su maestría para convertirse en terapeuta profesional.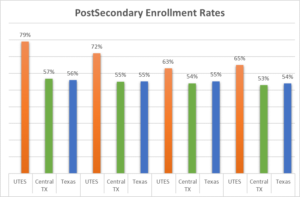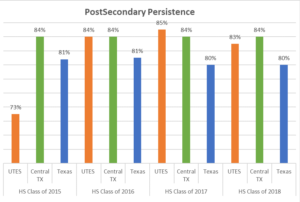 Los ex alumnos de la escuela primaria UT tienen índices consistentemente más altos de inscripción postsecundaria e índices iguales de persistencia universitaria en comparación con los estudiantes del centro de Texas y de todo el estado. Datos obtenidos de National Student Clearinghouse y E3 Alliance.