University Masonic Lodge Foundation donation to UT Elementary
UT Elementary is very lucky to have a longstanding partnership with the University Masonic Lodge No 1190 in Austin.  Over the years, their members have been mentors, tutors and special guests to our Little Longhorns providing them with guidance and gifts. The University Masonic Charitable Foundation is dedicated to "Improving the Human Condition Through Education, Charity, and Respect" that supports organizations whose purpose is to help improve the lives of children in Central Texas.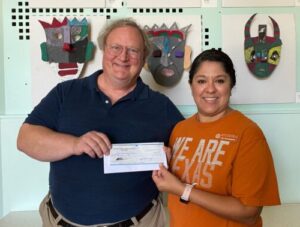 UT Elementary is incredibly grateful to the support of their members and their long partnership and we look forward to working with your members in the fall.
Learn more about the University Masonic Lodge Foundation here. https://universitylodge.org/university-masonic-lodge-foundation/ 
---
Donación de la Fundación University Masonic Lodge a UT Elementary
La Escuela primaria UT tiene mucha suerte de tener una asociación de largo tiempo con University Masonic Lodge No 1190 en Austin. A lo largo de los años, sus miembros han sido mentores, tutores e invitados especiales de nuestros Little Longhorns, brindándoles orientación y obsequios. La Fundación Caritativa Masónica de la Universidad se dedica a "Mejorar la Condición Humana a través de la Educación, la Caridad y el Respeto" que apoya a las organizaciones cuyo propósito es ayudar a mejorar la vida de los niños en el Centro de Texas.
La Escuela Primaria UT está increíblemente agradecida con el apoyo de sus miembros y su larga asociación y esperamos trabajar con sus miembros en el otoño.