Angela Kim is a student teacher from the UT College of Education who is working with 5th graders in Ms. Hershey's and Mr. Koeffler's classrooms.  Ms. Kim grew up in the Dallas-Fort Worth Metroplex area attending schools that helped shape who she is today. "From Kindergarten to 7th grade, I attended a school that was predominantly African-America and then from 8th grade through high school a school that was predominantly white. I truly did see the differences. The quality of education was significantly different. But that experience has shaped who I am and what kind of teacher I want to be."
Ms. Kim began as an intern at UT Elementary in the spring of 2022. Interns mainly observe and assist but this semester (fall 2022), Angela is student teaching.  In the classroom, Ms. Hershey and Mr. Koeffler are letting her take the lead.  "I love working with them. They are very welcoming and very supportive. They don't hesitate to help if they see me struggling.  My professors know about Nicole and Kameron as a 'Dynamic Duo" and I truly am learning the realities of being an educator."
In class at the College of Education with her professors and classmates, they reflect on what works for them with the students. "Being a student teacher allows us to apply some of the theories and practice what we have learned – but with a safety net. I know my cohort really values seeing students as human beings and recognizing their feelings: allowing flexibility because a lesson may not 'click' with every student.
While on campus at UT Elementary, she noticed that as a small school, teachers and administrators really get to know their community.  "The staff is like a little family. Ms. Hershey teaches 5th grade but she knows the names of students in Kindergarten. Everyone is so welcoming and it is a very caring and supportive community."
Angela is on track to graduate from UT in the spring of 2023 with a degree in Education.  She added: "I can't wait to get my own classroom!"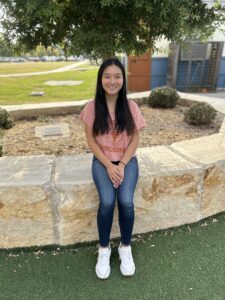 Angela Kim: Maestra Estudiante de la Escuela Primaria UT
Angela Kim es una estudiante de magisterio de la Facultad de Educación de UT que trabaja con alumnos de quinto grado en las aulas de la Ms. Hershey y Mr. Koeffler. Ms. Kim creció en el área metropolitana de Dallas-Fort Worth asistiendo a escuelas que ayudaron a formar quién es ella hoy. "Desde el jardín de infantes hasta el séptimo grado, asistí a una escuela predominantemente afroamericana y luego, desde el octavo grado hasta la preparatoria, a una escuela predominantemente blanca. Realmente vi las diferencias. La calidad de la educación fue significativamente diferente. Pero esa experiencia ha dado forma a quién soy y que tipo de maestra quiero ser".
Ms. Kim comenzó como pasante en La Escuela Primaria UT en la primavera de 2022. Los pasantes principalmente observan y ayudan, pero este semestre (otoño de 2022), Angela está enseñando como estudiante. En el salón de clases, Ms. Hershey y Mr. Koeffler le permiten tomar la iniciativa. "Yo amo trabajar con ellos. Son muy generosos y solidarios. No dudan en ayudarme si me ven luchando. Mis profesores conocen a Nicole y Kameron como un "dúo dinámico" y realmente estoy aprendiendo las realidades de ser un educador".
En clase en la Facultad de Educación con sus profesores y compañeros, reflexionan sobre lo que les funciona con los estudiantes. "Ser un estudiante de magisterio nos permite aplicar algunas de las teorías y practicar lo que hemos aprendido, pero con una red de seguridad. Sé que mi cohorte realmente valora ver a los estudiantes como seres humanos y reconocer sus sentimientos: permitir flexibilidad porque una lección puede no "hacer clic" con todos los estudiantes.
Mientras estaba en el campus de la escuela primaria UT, notó que, al ser una escuela pequeña, los maestros y los administradores realmente llegan a conocer a su comunidad. "El personal es como una pequeña familia. Ms. Hershey enseña en quinto grado, pero se sabe los nombres de los estudiantes de jardín de infantes. Todos son muy hospitalarios y es una comunidad muy solidaria y comprensiva".
Angela está en camino de graduarse de UT en la primavera de 2023 con una licenciatura en Educación. Ella agregó: "¡Estoy feliz de poder tener mi propio salón de clases!"