UT Elementary 5th Grade students participated in Outdoor School this month and they had a blast! Outdoor school is a 3-day, 2-night sleepaway camp where students participate in a variety of hands on academic-based activities and outdoor sports.
Outdoor School is very much academics based but it is also a rite of passage. For many 5th graders, who are primarily 10-11 years old, this may be the first time they are sleeping away from their families.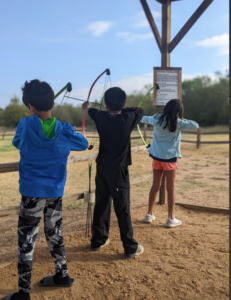 For students, it is a real opportunity to experience independence that will be more relied on in middle school. For parents, Outdoor School allows parents the opportunity to let their children experience this independence in a safe and controlled setting with the comfort of their classmates and teachers. "Letting go" of their little ones was not easy for everyone and there was more than one parent who shed a tear as they dropped off their child with a fully loaded suitcase that morning.
At the camp, every day held lessons and activities that tied back to lessons from their classroom. As a biology-based lesson, the Little Longhorns learned about Texas reptiles and many of them chose to touch a live snake or turtle. But the most fun were the outdoor sports! They got to climb a rock wall, complete a ropes course, learn to kayak and there was swimming in both their huge pool and Lake LBJ. What the students may not have realized, that the sports were also learning activities. Each one was tied to safety, teamwork and problem solving.
This trip was made possible thanks to the generous contribution of Mrs. Janet Bates. Mrs. Bates, who is a retired 5th grade teacher, understands how important field trips, especially this field trip, are for the development of our students.  Mrs. Bates said: "I choose to support this project because overnight field trips are valuable to the individual development of every student." UT Elementary would like to express our sincere gratitude to Mrs. Bates for her support of Outdoor School trips for our Little Longhorns.

---
Escuela al aire libre
¡Los estudiantes de quinto grado de la Escuela Primaria UT participaron en una escuela al aire libre este mes y se divirtieron mucho! La escuela al aire libre es un campamento de 3 días y 2 noches donde los estudiantes participan en una variedad de actividades académicas y deportivas al aire libre.
La escuela al aire libre se basa en gran medida en lo académico, pero también es un rito de iniciación. Para muchos estudiantes de quinto grado, que tienen principalmente entre 10 y 11 años, esta puede ser la primera vez que duermen lejos de sus familias.
Para los estudiantes, es una oportunidad real de experimentar la independencia en la que se confiará más en la escuela intermedia. Para los padres, la escuela al aire libre les brinda la oportunidad de que sus hijos experimenten esta independencia en un entorno seguro y controlado con la comodidad de sus compañeros de clase y maestros. "Dejar ir" a sus pequeños no fue fácil para todos y hubo más de un padre que derramó una lágrima al dejar a su hijo con la maleta completamente cargada esa mañana.
En el campamento, todos los días tenían lecciones y actividades que se relacionaban con las lecciones de su salón de clases. Como una lección basada en la biología, los Little Longhorns aprendieron sobre los reptiles de Texas y muchos de ellos optaron por tocar una serpiente o tortuga viva. ¡Pero lo más divertido fueron los deportes al aire libre! Pudieron escalar una pared de roca, completar un curso de cuerdas, aprender a andar en kayak y nadaron tanto en su enorme piscina como en el lago LBJ. Lo que los estudiantes pueden no haber notado, es que los deportes también eran actividades de aprendizaje. Cada uno estaba ligado a la seguridad, el trabajo en equipo y la resolución de problemas.
Este viaje fue posible gracias a la generosa contribución de Mrs. Janet Bates. La Sra. Bates, quien es maestra de quinto grado jubilada, entiende cuán importantes son las excursiones, especialmente esta excursión, para el desarrollo de nuestros estudiantes. La Sra. Bates dijo: "Elegí apoyar este proyecto porque las excursiones de una noche son valiosas para el desarrollo individual de cada estudiante". La Escuela Primaria UT y nuestros estudiantes quisieran agradecer a Mrs. Bates por su apoyo a los viajes escolares al aire libre para nuestros Little Longhorns.