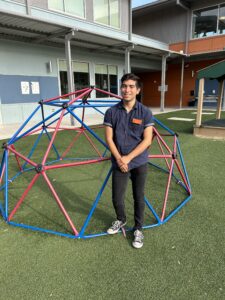 Every year, UT Elementary hosts student teachers from UT's College of Education who are completing the student teaching (aka Professional Development Sequence) phase of their teacher certification process. In addition to Angela Kim (who was highlighted in our October newsletter), Sebastian Davila is gaining his field experience at UT Elementary.
Davila grew up in Grand Prairie where he was in an International Baccalaureate (IB) program that helped prepare him for college and offered the opportunity to earn college credits while still in high school. Sebastian was a natural to head into a career in education: both of his parents are educators as well as his aunt.
He explained that as a teacher, his favorite part is the collaboration that students have together. "In peer teaching, you get to see how the students work together to solve problems. Watching them work through a difficult problem and then seeing them have the 'aha moment' is wonderful. I hope to bring more project-based learning like this into my classroom."
In December, Davila will have been at UTES for a year having done his internship (aka observation) here as well. When asked about his experience at UT Elementary, he said: "I love UTES because they promote both inclusion and diversity in students and teachers. There is a community built around the school that makes it a safe learning environment.
For his career plan, Sebastian said that his ultimate goal is to become a professor to help prepare future teachers. "I want to stay in the classroom for a while to gain that experience. But I also want to learn more about the research and data that propels education." We would love to see Mr. Davila as a professor at Big UT someday.
---
Sebastián Dávila, estudiante maestro
Cada año, UT Elementary recibe a estudiantes en el programa de preparación docente de la Facultad de Educación de UT que están completando la fase de enseñanza estudiantil (también conocida como Secuencia de desarrollo profesional) de su proceso de certificación docente. Además de Angela Kim (quien fue destacada en nuestro boletín de octubre), Sebastian Dávila está adquiriendo su experiencia de campo en UT Elementary.
Dávila creció en Grand Prairie, donde estaba en un programa de Bachillerato Internacional (IB) que lo ayudó a prepararse para la universidad y le ofreció la oportunidad de obtener créditos universitarios mientras aún estaba en la escuela secundaria. Sebastian era natural para dedicarse a una carrera en educación: sus dos padres son educadores, al igual que su tía.
Explicó que como maestro, su parte favorita es la colaboración que tienen los estudiantes juntos. "En la enseñanza entre pares, puedes ver cómo los estudiantes trabajan juntos para resolver problemas. Verlos resolver un problema difícil y luego verlos tener el 'momento aha' es maravilloso. Espero traer más aprendizaje basado en proyectos como este a mi salón de clases".
En diciembre, Dávila habrá estado en la UTES durante un año, habiendo hecho su pasantía (también conocida como observación) aquí también. Cuando se le preguntó sobre su experiencia en UT Elementary, dijo: "Me encantan las UTES porque promueven la inclusión y la diversidad en estudiantes y maestros. Hay una comunidad construida alrededor de la escuela que la convierte en un entorno de aprendizaje seguro.
Para su plan de carrera, Sebastián dijo que su objetivo final es convertirse en profesor para ayudar a preparar a los futuros maestros. "Quiero quedarme en el salón de clases por un tiempo para ganar esa experiencia. Pero también quiero aprender más sobre la investigación y los datos que impulsan la educación". Nos encantaría ver al Sr. Davila como profesor en Big UT algún día.