The Austin Empty Bowl Project is a fundraiser that was created by local potters that benefits the Kid's Café program of the Central Texas Food Bank and the Meals for Kids program of Meals on Wheels of Central Texas.  At their annual event which is held the Sunday before Thanksgiving, guests purchase a handcrafted bowl that was created by a local artist. Each guest then chooses a soup that was donated by a local restaurant or chef.
This year, UT Elementary's own Chef Kimberly Wilson was invited to participate. Chef Kim prepared her delicious tomato basil soup which was a hit with the event attendees. UT Elementary is very fortunate to have a well known and respected chef who prepares healthy meals for our students every day.
Chef Kim was very happy to participate in this community event and she would love to participate again next year.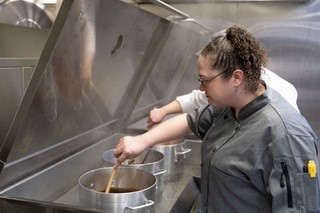 UTES Chef Kim participa en el Proyecto Tazón Vacío de Austin
El Proyecto Tazón Vacío de Austin es una recaudación de fondos creada por alfareros locales que beneficia al programa Kid's Café del Central Texas Food Bank y al programa Meals for Kids de Meals on Wheels of Central Texas. En su evento anual, que se lleva a cabo el domingo anterior al Día de Acción de Gracias, los invitados compran un cuenco hecho a mano que fue creado por un artista local. Cada invitado elige una sopa para llevar en su tazón que fue donada por un restaurante o chef local.
Este año, la chef Kimberly Wilson de UT Elementary fue invitada a participar. La chef Kim preparó su deliciosa sopa de tomate y albahaca que fue un éxito entre los asistentes al evento. UT Elementary es muy afortunada de tener un chef muy conocido y respetado que prepara comidas saludables para nuestros estudiantes todos los días.
Chef Kim estaba muy feliz de participar en este evento comunitario y le encantaría participar nuevamente el próximo año.