After a three-year hiatus, UT Elementary's STEAM class brought back their Science Fair Competition. On Thursday, January 26, almost 40 community members spent about two hours speaking with Little Longhorns about their science projects.  As we had 64 projects, we needed about 40 judges to allow each project to be judged at least 3 times and keep the event under 21 hours. (Thank you to STEAM teacher Ms. Calvin who did the math to figure how many judges we needed.)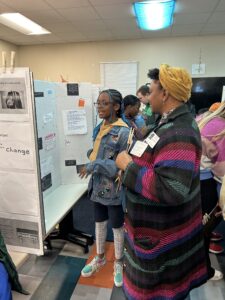 All 5th graders along with most 4th and some 3rd and 2nd created projects that were civics oriented. Each project, using the scientific method, researched a topic that had societal implications. Topics included: What fidget toy is best to calm you down? The effect of action video games on the body. And, How much does clean water cost? Each student created a presentation board and stood aside it prepared to discuss their project methodology and outcomes with judges.
Many of the judges were impressed with how prepared the students were in presenting their projects and how fluent the students were with using scientific terminology. One judge, who is currently a Natural Science major at UT said that teaching the students to be this comfortable with the jargon is a positive step breaking down barriers to STEM fields.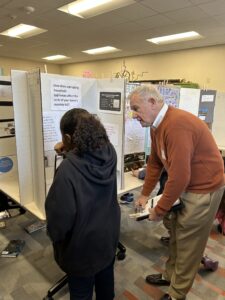 Huge THANKS to our friends who helped make this event flow so well: UTES Board Members, UTES Visualize Graduation Society Members, the WiSTEM community, Neighborhood Longhorns, The Texas Cowboys, UTeach students and our community supporters. We really couldn't have done it without you.
Feria de Ciencias STEAM en UT Elementary
Después de una pausa de tres años, la clase STEAM de UT Elementary trajo de vuelta su Competencia de Feria de Ciencias. El jueves 26 de enero, casi 40 miembros de la comunidad pasaron unas dos horas hablando con Little Longhorns sobre sus proyectos científicos. Como teníamos 64 proyectos, necesitábamos alrededor de 40 jueces para permitir que cada proyecto fuera juzgado al menos 3 veces y mantener el evento por debajo de las 21 horas. (Gracias a la maestra de STEAM, la Sra. Calvin, que hizo los cálculos para calcular cuántos jueces necesitábamos).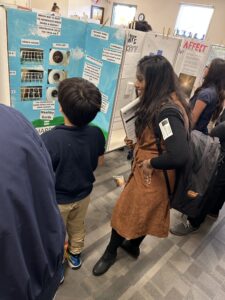 Todos los alumnos de 5.° grado junto con la mayoría de los de 4.° y algunos de 3.° y 2.° crearon proyectos orientados a la educación cívica. Cada proyecto, utilizando el método científico, investigó un tema que tenía implicaciones sociales. Temas incluidos: ¿Qué juguete fidget es mejor para calmarte? El efecto de los videojuegos de acción en el cuerpo. Y, ¿Cuánto cuesta el agua limpia? Cada estudiante creó un tablero de presentación y se quedó a un lado preparado para discutir la metodología y los resultados de su proyecto con los jueces.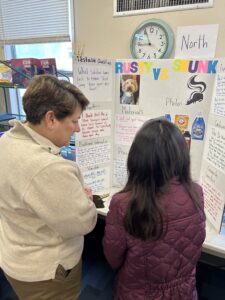 Muchos de los jueces quedaron impresionados con la preparación de los estudiantes para presentar sus proyectos y la fluidez de los estudiantes en el uso de la terminología científica. Un juez, que actualmente se especializa en Ciencias Naturales en UT, dijo que enseñar a los estudiantes a sentirse cómodos con la jerga es un paso positivo para romper las barreras de los campos STEM.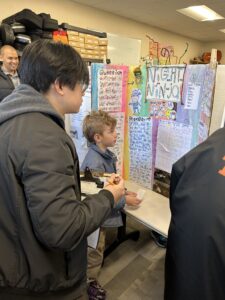 MUCHAS GRACIAS a nuestros amigos que ayudaron a que este evento fluya tan bien: Miembros de la Junta de UTES, Miembros de la Sociedad de Graduación de UTES Visualize, la comunidad de WiSTEM, Neighborhood Longhorns, The Texas Cowboys, estudiantes de UTeach y los partidarios de nuestra comunidad. Realmente no podríamos haberlo hecho sin ti.