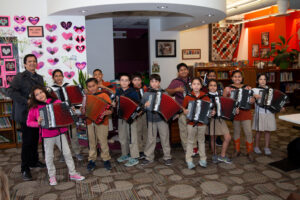 The Visualize Graduation Society (VGS) of UT Elementary is a multi-year giving society for those who have pledged to invest at least $1,000 per year of programmatic funds for a period of five years or more. VGS members play a critical role in helping UT Elementary fulfill its mission as a research-based demonstration school that sets students on a successful path from Pre-Kindergarten through Ph.D.
The academic model that UT Elementary was founded on includes a longer school day; using the additional time to offer students more frequent access to special academic areas. At UT Elementary, the special academic areas are called our Margin of Excellence Programs and they have been prioritized because research shows that offering more frequent access to these special academic areas affords students a more holistic and connected academic experience.  Funds provided by VGS members directly enables UT Elementary to offer the Margin of Excellence Programs to all of our students.
UT Elementary's Margin of Excellence Programs are:
Health and Wellness
STEAM (Science, Technology, Engineering, Art and Math)
Music Programs (including Orchestra, Strings and General Music)
Social Emotional Learning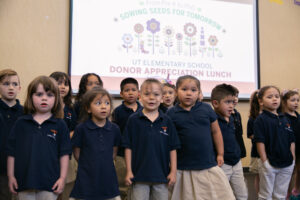 Every spring, UT Elementary hosts a donor recognition event. Our event celebrates the students, faculty and supporters of our school and one supporter is recognized by being awarded the Dan Burck Visionary Award. For more information about this award, please see the Dan Burck Visionary Award page here.
If you would like to become a UT Elementary Visualize Graduation Society Member, please pledge here: UT Elementary Donate Page and under UT Elementary choose "Visualize Graduation Society."
For more information on UT Elementary's Visualize Graduation Society, please contact Sharon Yarbrough, Director of Development at sharon.yarbrough@austin.utexas.edu.